Politics & Prose Live: Anne Applebaum to Discuss TWILIGHT OF DEMOCRACY via Zoom (7/22)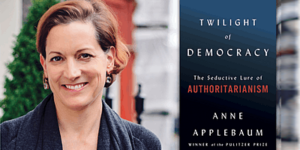 Anne Applebaum, author of TWILIGHT OF DEMOCRACY (Doubleday), will be in conversation with Yascha Mounk at a Politics & Prose Live virtual event via Zoom on Wednesday, July 22 at 1:00 pm (ET).
A Pulitzer Prize–winning historian explains, with electrifying clarity, why elites in democracies around the world are turning toward nationalism and authoritarianism. Elegantly written and urgently argued, TWILIGHT OF DEMOCRACY is a brilliant dissection of a world-shaking shift and a stirring glimpse of the road back to democratic values.
Anne Applebaum is a staff writer for The Atlantic and a Senior Fellow of the Agora Institute at Johns Hopkins University. Her previous books include Iron Curtain, winner of the Cundill Prize and a finalist for the National Book Award, and Gulag, winner of the Pulitzer Prize for Nonfiction and a finalist for three other major prizes. She lives in Poland with her husband, Radek Sikorski, a Polish politician, and their two children.
!! As a reminder, if you are posting to a personal or other non-PRH account you must include the hashtag #TeamPRH !!
Posted: July 21, 2020