Politics & Prose Live to Feature Megha Majumdar and C Pam Zhang via Crowdcast (6/5)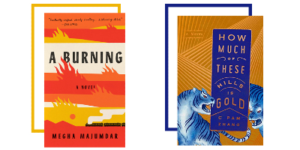 Megha Majumdar, author of A BURNING (Knopf), and C Pam Zhang, author of HOW MUCH OF THESE HILLS IS GOLD (Riverhead), will be featured in a Politics & Prose Live virtual joint event via Crowdcast on Friday, June 5 at 8:00pm (ET).
A BURNING is an electrifying debut novel about three unforgettable characters that seek to rise–to the middle class, to political power, to fame in the movies–and find their lives entangled in the wake of a catastrophe in contemporary India. Taut, symphonic, propulsive, and riveting from its opening lines, it has the force of an epic while being so masterfully compressed it can be read in a single sitting.
Majumdar was born and raised in Kolkata, India. She moved to the United States to attend college at Harvard University, where she was a Traub Scholar, followed by graduate school in social anthropology at Johns Hopkins University. She works as an associate editor at Catapult, and lives in New York City.
C Pam Zhang's debut novel set against the twilight of the American gold rush, two siblings are on the run in an unforgiving landscape—trying not just to survive but to find a home. Both epic and intimate, blending Chinese symbolism and re-imagined history with fiercely original language and storytelling, HOW MUCH OF THESE HILLS IS GOLD is a haunting adventure story, an unforgettable sibling story, and the announcement of a stunning new voice in literature. On a broad level, it explores race in an expanding country and the question of where immigrants are allowed to belong. But page by page, it's about the memories that bind and divide families, and the yearning for home.
Born in Beijing but mostly an artifact of the United States, C Pam Zhang has lived in thirteen cities across four countries and is still looking for home. She's been awarded support from Tin House, Bread Loaf, Aspen Words and elsewhere, and currently lives in San Francisco.
!! As a reminder, if you are a PRH employee posting to a personal or other non-PRH account, you must include the hashtag #TeamPRH !! 
Posted: June 4, 2020