Pop Culture Powerhouses: Voices of Cultural Journalism Discuss Their Anticipated Summer Books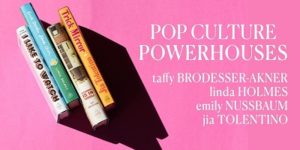 On Monday, June 24, at the Tishman Auditorium in New York, Random House brought together four leading voices in cultural journalism to celebrate their highly anticipated summer books and discuss the ways in which pop culture — everything from binge-worthy TV to ubiquitous celebrities to the rise of athleisure — influences how we behave as a society. Co-hosted by the New School's Creative Writing Program and Lang Literary Studies Program, the event welcomed some of the most sought-after journalists and emerging authors for an engaging discussion.
Moderated by Read it Forward Senior Editor, Abbe Wright, the writers discussed their career paths, experiencing their work being swept up as a viral sensation, and the juxtaposing feelings of readers' expectations. They also focused on how their journalism work differs from writing a book and highlighted what cultural touchstones everyone should have on their radar.
Taffy Brodesser-Akner is a staff writer for The New York Times Magazine and has written for many other publications. Her book FLEISHMAN IS IN TROUBLE is a finely observed, timely exploration of marriage, divorce, and the bewildering dynamics of ambition.
Linda Holmes is the beloved host of NPR's Pop Culture Happy Hour podcast. Her first novel EVVIE DRAKE STARTS OVER is a charming and heartfelt story about the unlikely relationship between a young woman who's lost her husband and a major league pitcher who's lost his game.
Emily Nussbaum is The New Yorker's fiercely original, Pulitzer-Prize winning culture critic. Her book I LIKE TO WATCH is a provocative collection of essays that argues for a new way of looking at TV.
Jia Tolentino is a breakout writer at The New Yorker. Her book TRICK MIRROR is a collection of original essays that examines the fractures at the center of contemporary culture.
The video of the full panel is below.
Posted: June 26, 2019