Pope Francis Said Reading Nadia Murad's THE LAST GIRL Inspired His Iraq Visit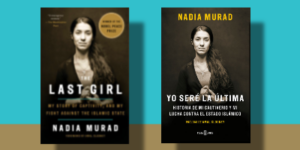 Following the first-ever papal visit to Iraq, which concluded on March 8, Pope Francis told journalists on his return flight to Rome that he was inspired to visit the country after reading Nobel Peace Prize-winning author Nadia Murad's THE LAST GIRL: The Story of My Captivity and My Fight Against the Islamic State (Tim Duggan Books).
Earlier this week, CNN Vatican Correspondent Delia Gallagher tweeted the cover of THE LAST GIRL and the following message: #PopeFrancis said this book convinced him to go to Iraq. "I recommend you read it," he told journalists on the plane returning from Iraq. "It's the underlying reason for my decision. This book worked its way inside me."
THE LAST GIRL, also published by Penguin Random House Grupo Editorial, under the title Yo Sere la Ultima. is a memoir of survival, in which Murad, a former captive of the Islamic State, tells her harrowing and ultimately inspiring story.
Posted: March 12, 2021