Portfolio's Seth Godin to Receive Jack Covert Award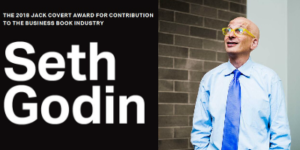 Seth Godin is the recipient of the fifth annual Jack Covert Award for Contribution to the Business Book Industry, it was announced by business book authority 800-CEO-READ. The Jack Covert Award is named for 800-CEO-READ's now-retired founder and president. Covert played a major role in the expansion of the business book industry and the award recognizes others central to the industry's growth and success.
"Just mention the name 'Seth' to anyone in our industry, and they will immediately know who you're talking about. One name is all you need. He is that influential. And he is just as generous," said Jack Covert. "Talking to Seth is like drinking from a firehose. The ideas that come from the man's brain seem endless, and we have benefited greatly as a company from our conversations and connection to him. I know for a fact that he has had a similar impact on countless others."
"Jack Covert is the original godfather, the generous, insightful kingmaker who made book magic happen for a generation," said Seth Godin upon learning he would receive the honor. "Jack understands that ideas matter, and that ideas that spread, win. I'm blown away that this award somehow ended up on my desk. I'll try to live up to the model he's set for all of us."
"We could not be more proud and happy to be the long-time publisher of Seth Godin, who has become a personal and professional friend to Portfolio," said Adrian Zackheim, President and Publisher of Portfolio, and recipient of the 2015 Jack Covert Award. "Over so many books since 2003 —from PURPLE COW to THE DIP to TRIBES to LINCHPIN to THIS IS MARKETING— we have enjoyed a unique partnership. No other author has challenged us quite so much to up our game. No other author has rewarded us, and his readers, with so many remarkable books of enduring value. Indeed, no other author has guided us, as Seth has, to define what we really stand for. Our hats are off to you, Seth!"
Godin will be in attendance at the 800-CEO-READ Business Book Awards on January 17, 2019 in New York City to receive the award.
Seth's most recent book, THIS IS MARKETING, published by Portfolio in November 2018, was an instant New York Times, Wall Street Journal, and USA Today bestseller.
Posted: December 13, 2018