Presenting Pride in Your Words, Our First-Ever Zine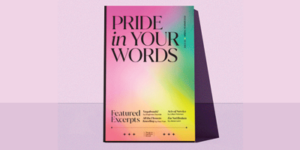 The Consumer Marketing Team, in partnership with the Penguin Random House LGBTQ+ Network and our esteemed authors, has officially dropped Pride in Your Words, our first-ever zine. Beginning today, consumers can download the digital issue, and can sign up to receive one of 1,000 copies of our 60-page print edition in the mail.
"We're thrilled to be releasing our first zine. It's a format we've been wanting to test for a while, and this felt like the right moment and the right audience. We look forward to publishing new issues in the future and continuing to work with the LGBTQ+ Network to create meaningful and lasting connections with our readers and celebrate our amazing books and storytellers during Pride and throughout the year," said Adam Royce, VP, Creative Strategy.
This year's zine opens with an introduction from the LGBTQ+ Network and highlights authors and books published in 2022, with passages and interviews from Vagabonds/Eloghosa Osunde, All the Flowers Kneeling/Paul Tran, Acts of Service/Lillian Fishman, and I'm Not Broken/Jesse Leon, as well as coloring pages from Color Me Queer by Anshika Khullar. Also featured is a 2022 Pride reading list, an illustrated guide to making your own zine, and four original illustrations from lettering artist Kyle Letendre.
"We're excited to partner with PRH Consumer Marketing to be a part of this publication. It's our goal to creatively spotlight queer authors. The magic of publishing is how it gives voice to the unheard. As Paul Tran acknowledges in All the Flowers Kneeling, 'There is no sorcery without sacrifice—without support, solidarity in struggle, and the sustenance required to survive,'" said Paul Legault and Kaitlin Ketchum, Co-Chairs, LGBTQ+ Network.
You can view the digital issue here. The first 10 Penguin Random House employees to share the zine on social tagging @penguinrandomhouse and #prideinyourwords will receive a copy of the print edition delivered to their homes.
We're thrilled to kick off Pride 2022 with Pride in Your Words and look forward to publishing new issues annually to highlight our impressive roster of LGBTQ+ authors and creators. Please reach out to Carly Gorga or Sara Dayton with questions about the zine and stay tuned for even more Pride updates from our team in the coming weeks.
Posted: May 25, 2022