President Barack Obama Virtually Visits with Student Writers from The Telling Room (Watch Video)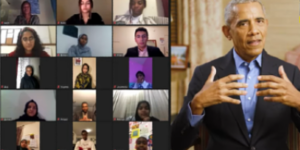 President Barack Obama recently invited a group of 26 students from The Telling Room's Young Writers & Leaders (YWL) program to join him for a special conversation about writing personal narratives. The YWL program is an intensive nine-month afterschool program created exclusively for international, multicultural, and 1st generation American high-school students belonging to Maine's community of immigrants and refugees. NowThis, the online video news outlet, shared exclusive excerpts. To view the video, click here.
The students taking part in the conversation represented 11 different nations, including Angola, Burundi, Congo, Ethiopia, Iraq, Jordan, Kurdistan, Rwanda, Somalia, Sudan, and the U.S., and they speak 20 unique languages between them. The group spent the fall writing poetry and are now working on their personal narratives. Each student is paired with a "writing coach" mentor from the community with whom they meet weekly on Zoom to develop an original personal story to be professionally published in an anthology this spring.
In the wide-ranging conversation, President Obama was honest and heartfelt with the students. Some of the themes they covered included: feelings of conflict and confusion around identity, the challenges the President has faced in his writing process, his taste in music, and his advice to the students on following their dreams. Acknowledging that writing can sometimes be difficult, he encouraged students to stay positive and continue working hard.
"He was in our shoes at one time. Your path isn't always clear, and look at him, he became president, and he's here talking to us," said one student, Khalil Kilani, a senior at Waynflete School who immigrated to Maine from Iraq in 2011. "It gave me inspiration. I'm not sure what I want to be when I grow up, but anything is possible and he made that very clear."
Based in Portland, Maine, The Telling Room is a literary arts education nonprofit serving over 3,000 students per year whose mission is to empower youth through writing and share their voices with the world. Focused on young writers ages 6 to 18, The Telling Room's writing and publishing programs seek to build confidence, strengthen literacy skills, and provide real audiences for student writing. The Telling Room has published 17 book-length anthologies of student work, provides classroom assistance to teachers, and has been recognized through awards and grants from the National Endowment for the Arts and the President's Committee on the Arts and the Humanities among others.
Posted: February 19, 2021