President Obama's 2016 Summer Reading List Features Three Penguin Random House Titles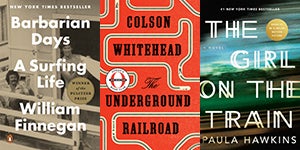 On Friday, August 12, the White House unveiled President Barack Obama's 2016 summer reading list. President Obama chose five books to read during his annual vacation on Martha's Vineyard and among them are three titles published by Penguin Random House imprints. Obama selected THE UNDERGROUND RAILROAD by Colson Whitehead (Doubleday) as one of his picks along with the #1 New York Times bestseller THE GIRL ON THE TRAIN by Paula Hawkins (Riverhead), and William Finnegan's Pulitzer Prize-winning surf memoir BARBARIAN DAYS: A Surfing Life (Penguin Books).
To see the entire list click here.
Posted: August 16, 2016