PRH and Barack Obama Make Donations in Honor of the Publication of "RENEGADES: Born in the USA"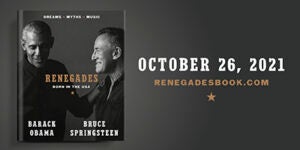 In honor of Penguin Random House's global publication of RENEGADES: Born in the USA, a collection of conversations between Barack Obama, the 44th president of the United States, and legendary musician Bruce Springsteen, Penguin Random House is making a financial donation to the Obama Foundation's youth leadership programs, expanding upon the company's earlier donation of one million children's books to First Book in the Obama family name. A portion of President Obama's proceeds from RENEGADES will benefit youth leadership programs at the Obama Foundation.
Penguin Random House CEO Markus Dohle said, "President Obama and Bruce Springsteen both possess the unique ability to evoke a sense of a singular, intimate connection with the reader while exploring the vast range and deepest expressions of the American experience. Our Penguin Random House publishers around the world are thrilled to work together on a global scale to share the work of these remarkable storytellers."
Published In partnership with Higher Ground, RENEGADES features more than 350 photographs, exclusive bonus content, and never-before-seen archival material, including Springsteen's handwritten lyrics and Obama's annotated speeches.
RENEGADES chronicles and expands upon the conversations Obama and Springsteen began in Spotify's co-produced podcast of the same name, which is one of the most internationally listened-to podcasts on the Spotify platform. In a series of intimate dialogues marked by humor, compassion, and conviction, they share their enduring love of America, with all its challenges and contradictions, and discuss topics such as marriage and fatherhood, race and masculinity, the lure of the open road and call back home, and their shared love of music and the formative role it has played in shaping both their own lives and the broader American experience. They also share timely reflections on our country's polarized politics and the growing distance between the American Dream and the American reality, seeking to explore how together we might find our way back toward a more unified and hopeful story.
Read President Obama's and Bruce Springsteen's introductions to RENEGADES here.
The book is published by Crown in the U.S. and Canada, with an English-language edition of RENEGADES published in the UK and British Commonwealth territories by Viking, an imprint of Penguin General Books at Penguin Random House UK. The book is also published in translation in twelve additional languages, including SPANISH Debate/Penguin Random House Grupo Editorial; GERMAN Penguin Verlag/Penguin Random House Verlagsgruppe; PORTUGUESE BRAZIL Companhia das Letras; PORTUGUESE PORTUGAL Objectiva/Penguin Random House Grupo Editorial; FRENCH Editions Fayard; ITALIAN Garzanti; DUTCH Hollands Diep; DANISH Lindhardt og Ringhof; SWEDISH Albert Bonniers Förlag; CATALAN Libros Del Kultrum; FINNISH Tammi; and ROMANIAN Grup Media Litera.
Posted: October 27, 2021