PRH and Little Free Library Launch Mental Health Libraries in Honor of Mental Health Awareness Month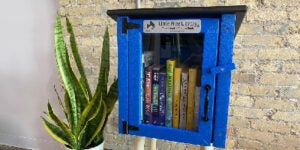 Penguin Random House and Little Free Library (LFL) announced their activities honoring Mental Health Awareness Month. Through the partnership, PRH will sponsor 20 Little Free Library book-sharing boxes granted to high-need communities via LFL's Impact Library Program across the U.S., provide more than 500 mental health–focused books and over 30 titles for these libraries, and offer an additional 2,000 books for a national giveaway. These libraries will include both adult and children's titles and, in addition to PRH titles, they will also include PRH client titles.
"It is an honor to be working with Penguin Random House to share resources to inform and educate about a variety of mental health issues as part of May's Mental Health Awareness Month," said LFL Executive Director Greig Metzger. "With Penguin Random House's grant funding and book donations, Little Free Library will be able to expand book access in deserving communities, as well as share relevant titles across the Little Free Library network of book-exchange boxes."
Some of the titles featured in the project include:
"We always love collaborating with Little Free Library—their one-of-a-kind network helps communities across the country get equitable access to books, a mission that is more important than ever in today's climate," said Claire von Schilling, EVP, Director, Corporate Communications and Social Responsibility, Penguin Random House. "We are especially excited to work with LFL for Mental Health Awareness Month to provide mental-health focused books from our authors that help readers feel seen and understood."
Locations for the new mental health–focused Little Free Libraries include a detention center in Alvarado, Texas, a community garden in New York, New York, a school district in Redding, California and a public park in Rockton, Pennsylvania.
For more information on Little Free Library's Impact Library Program please click here.
Posted: May 23, 2023