PRH and RHCB Donation of Books to Bronx School Featured on NBC's TODAY Show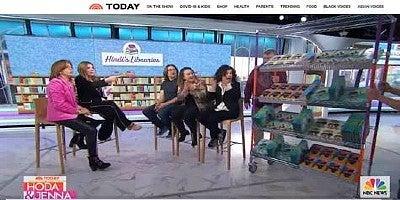 Penguin Random House and Random House Children's Books donated 1,000 books to PS11X Highbridge Public School in the Bronx. This donation was featured as part of a "Read with Jenna" anniversary celebration with Jenna Bush Hager and Hoda Kotbe on NBC's TODAY Show on Wednesday, March 2.
The donation included multiple copies of four Random House Children's Books titles: ROCKET SAYS CLEAN UP!, MAGNIFICENT MAKERS #1: How to Test a Friendship, THE SEASON OF STYX MALONE, and DRAGONS IN A BAG.
Jenna Bush Hager announced, "Every student is going to go home with at least two books."
Highbridge School Librarian Rosanna Gulisano said, "This is a dream come true for the families. We cannot thank you enough!"
Watch the TODAY Show segment here.
Posted: March 3, 2022