PRH and We Need Diverse Books Celebrate This Year's Creative Writing Awards Winners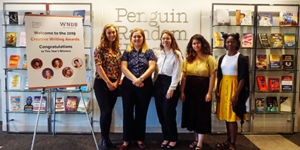 Penguin Random House, in partnership with We Need Diverse Books (WNDB), a national grassroots organization that advocates for diversity in children's literature, hosted a day-long celebration and awards ceremony on Thursday, August 8, at 1745 Broadway, for the five winners of the 2019 Creative Writing Awards.
This year's winners – Samantha Kirschman, Katherine Sanchez, Siobhan Cohen, Kiora Brooks and Nora Carrier – began their day with an overview of Penguin Random House presented by Christine Stotz, Senior Manager, Corporate Communications. A roundtable discussion on careers in publishing featured a diverse group of PRH colleagues, including Alexandra Hightower, Assistant Editor, Random House Children's Books; Hugo Bresson, Manager, Library Sales; April Flores, Director, Consumer Insights; and Jon Reyes, Publicity Assistant, Dutton/PPG. A Networking 101 workshop was led by Annysa Polanco, Manager, Diversity & Inclusion, and provided networking tips to help those just starting out in the world of publishing.
The students also had the opportunity to discuss their writings during one-on-one sessions with Penguin Random House editors Anne Speyer, Senior Editor, Random House; Frank Berrios, Senior Editor, Random House Children's Books; Nicole Counts, Editor & Publishing Manager, One World, Random House; Margo Shickmanter, Editor, Knopf Doubleday; and Stephanie Kelly, Editor, Dutton/PPG.
Natasha Diaz, author of the upcoming debut novel COLOR ME IN (Delacorte Press), talked about writing her first book and answered questions throughout a special Fireside Chat.
Big thanks to all of our colleagues who donated their time and shared their experiences with these students.
Veronica Valerio, Manager, Corporate Giving, Penguin Random House, was the Master of Ceremony of the afternoon Creative Writing Awards presentation, readings, and reception. The young writers, with sincerity and emotion, delivered excerpts of their award-winning literary creations in front of an audience that included parents and former CWA winners, as well as Penguin Random House and We Need Diverse Books staff, among others.
Claire von Schilling, Penguin Random House EVP and Director of Corporate Communications and Social Responsibility, said, "It was truly inspiring for our colleagues and me to meet these brilliant, talented students, and after listening to them read their award-winning works, we came away with a renewed sense of why their work is so singular. As the home to many of the world's most gifted authors—among them our Creative Writing Award winners—we are so proud to work at Penguin Random House."
More than 600 students entered this year's competition, which was open to graduating seniors from public high schools across the country for the first time, expanding the award's original New York City scope. Entries submitted represented more than 30 states and 250 high schools. The five winners each will receive $10,000 for their college scholarships.
To view more photos from the 2019 Creative Writing Awards event, click here.
Posted: August 13, 2019