PRH Audio Aims to Amplify Diverse Voices with New Narrator Mentorship Program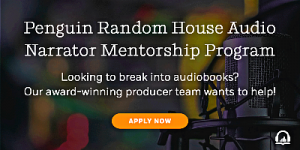 Penguin Random House Audio is launching an exciting new program to open the door to the audiobook industry for actors from all backgrounds. The PRH Audio Narrator Mentorship Program is an initiative primarily for actors who are looking to gain experience and cultivate new professional relationships.
"I think this program will be beneficial to all who participate, both mentees and mentors," said Kelly Gildea, Senior Executive Producer & Senior Manager, Creative Partnership Development, Penguin Random House Audio. "We know that it's often difficult for actors in underrepresented communities to break into this industry. We wanted to offer an assist, while also getting to know these actors well. When you have a greater understanding of an actor's strengths and abilities, it's likely you'll cast them more widely and frequently."
The deadline for actors to apply to the first biannual session is Friday, May 14. The six-month program will welcome 15 mentees and run from June 2021 through November 2021. The next session will take place January 2022–June 2022.
Mentees will be fully immersed in the audiobook world with individual coaching sessions from a team of PRH Audio producers. Working closely with industry experts will strengthen actors' preexisting skill-sets while giving them a comprehensive guide for how to navigate audiobook publishing.
A key goal of the program is to level the playing field. PRH Audio is looking to reflect the diversity we see in the world daily in the audio space by creating an inclusive program to give actors in underrepresented communities an opportunity to break into the audiobook world.
Working across multiple genres, mentees will be able to not only produce their own demo sample but prepare for and complete an audio audition as well. While there is no guarantee that the Program's participants will be hired, it is the Audio team's hope that the skills they develop during this mentorship will help pave the way for a successful career in audiobook narration.
Posted: April 29, 2021