PRH Audio Partners with Teatro SEA to Publish 9 Bilingual Children's Audiobooks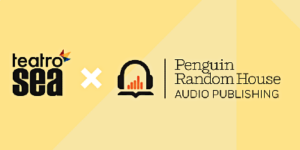 Just last week, Penguin Random House Audio announced the exciting news that it will partner with Teatro SEA, the premiere Latino children's theatre in the United States, to publish a collection of nine bilingual children's audiobooks in Spanish and English this fall.
Each immersive audiobook, based on the theatre company's productions for young audiences and written by artistic director Manuel Antonio Morán, is narrated by a full cast and includes music and sound effects. The recordings bring classic folk tales and fairy tales from throughout Latin America to life for a new generation, featuring stories from Mexico, Colombia, Argentina, Puerto Rico, Cuba, the Dominican Republic, and beyond. 
Teatro SEA is celebrating its 38th anniversary in 2023 and reaches more than 75,000 children and young adults every year through educational programs and performances in their theatre, located on Manhattan's Lower East Side.  
The audiobook recordings will be narrated by notable Latin voices. Mexican actors Jorge Blanco  (Violetta), Beto Castillo (Sesame Street), Carolina Ayala (Demente Criminal), and a full cast will narrate ¡Viva Pinocho! Un Pinocho mexicano, a heart-warming retelling of the classic folktale by a young Mexican immigrant on his journey to understanding himself, his heritage, and embracing a new country. 
Mi chivita mágica follows Lucy and her very special group of friends on a journey through captivating Colombia and is narrated by Colombian actors Julieth Restrepo (Loving Pablo), Juan Pablo Raba (Narcos), Carolina Gutiérrez (The L Word: Generation Q), Johanna Curé (Grey's Anatomy), and more.
Teatro SEA's founder and artistic director Dr. Manuel A. Morán, who will also perform on several of the audiobook recordings, says, "Having written and presented theatre for young audiences for over 35 years, I am excited to expand my work through audiobooks. By sharing stories from Latin America, latinized classic children's stories, and original tales, I hope to not only have listeners hear them, but also allow them to dream and envision them on stage." 
Future titles will include: 
¡Viva Pinocho! A Mexican Pinocchio | ¡Viva Pinocho! Un Pinocho mexicano
My Magical Colombian Bus | Mi Chivita mágica
My Superhero Roberto Clemente | Mi superhéroe Roberto Clemente 
A Tango-Dancing Cinderella | Cenicienta tanguera
Juan Bobo's Tales | Los cuentos de Juan Bobo 
Butter | Mantequilla
Martina, The Little Roach | La cucarachita Martina
Pedro Animal Falls in Love | Pedro Animal se enamora
The Colors of Frida | Los colores de Frida
Audiobooks are the fastest growing area of book publishing, a trend driven in large part by the increased availability of titles on audio, and the Audio Publishers Association reports sales of non-English language titles grew 37% in 2022. Penguin Random House Audio continues to expand its Spanish-language audiobook catalog and plans to publish 60 titles in Spanish in 2023.  
Additional titles include bestselling works for adult listeners by Dan Brown, George R. R. Martin, Lin-Manuel Miranda, Carlos Ruiz Zafón, Miguel Ángel Asturias, Paulo Coelho, Deepak Chopra, and the Audie Award–nominated Desierto sonoro by Valeria Luiselli, as well as classic and new recordings for kids and families by Eric Carle, Matt de la Peña, Isabel Quintero, Nomar Perez, and Supreme Court Justice Sonia Sotomayor, among others.
Posted: August 14, 2023