PRH Audio Presents the Ahab Breakdown, a New Behind-the-Mic Virtual Event Series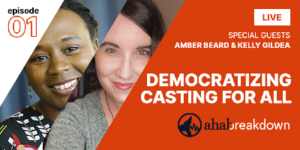 Penguin Random House Audio is introducing the Ahab Breakdown, a free monthly virtual event series hosted by PRH Audio's Dan Zitt and Julie Wilson, creators of Ahab, a site for audiobook narrators and content creators. The hosts and panelists will share their expertise, give feedback on creating standout Ahab actor profiles, and answer questions from the audience. Dan and Julie talk with leading content creators and voice-over actors about key themes, including the ins and outs of auditioning, increased inclusivity in audiobook casting, the actor-director recording relationship, and the ever-expanding range of voiceover projects.
On Thursday, October 15, at 4:00 pm (ET), join the first installment of the Ahab Breakdown, "Democratizing Casting for All," to learn how Ahab can help you find talent and get hired, along with insights into the audiobook casting process, from PRH Audio producers Amber Beard and Kelly Gildea. To register, click here.
Posted: October 13, 2020