PRH Audio to Release Nick Offerman's Audiobook Original ALL RISE on October 13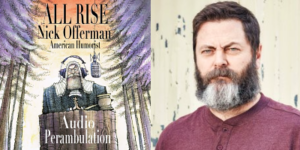 Nick Offerman – New York Times bestselling author, actor, humorist, and woodworker – is releasing an audiobook original of his stand-up comedy show, "All Rise," which will be published by Penguin Random House Audio on October 13. ALL RISE: Audio Perambulation presents talking, mirth and song that may compel listeners to chuckle while also causing them to contemplate a better side of humanity than the one to which they've grown accustomed.
In an announcement of the project, Offerman said, "I talk very slow and play some songs, so if nothing else it will be a great way to get your kids to go to sleep."
Offerman had been touring his show "All Rise," directed by Megan Mullally, both domestically and abroad in 2019, however his plans to continue this year were canceled due to the global pandemic. Recorded live last year, this audiobook includes new introductory material and musings recently written and recorded by Offerman.
To read a PRH Audio blog post about Offerman and his audiobook, click here. Also, check out a feature on the release in The Hollywood Reporter here.
Nick Offerman is the New York Times bestselling author of Gumption: Relighting the Torch of Freedom with America's Gutsiest Troublemakers, Paddle Your Own Canoe: One Man's Fundamentals for Delicious Living, and Good Clean Fun: Misadventures in Sawdust at Offerman Woodshop, as well as co-author of The Greatest Love Story Ever Told, written with his wife, Megan Mullally. Nick and Megan live in Los Angeles, California, with their pups and an impressive collection of wood clamps.
Posted: September 19, 2020