PRH Audio's 2021 Audies: Fiction, Humor & More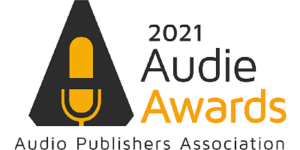 Two weeks after winning the 2021 Best Spoken Word GRAMMY® for its production of Rachel Maddow's BLOWOUT, Penguin Random House Audio scored triumphs at its industry's major annual competition, winning prizes in four categories at this year's Audie Awards virtual ceremony on March 22. The Group won for Fiction, Literary Fiction & Classics, History/Biography, and Humor, each among five finalists, voted upon by the respective judges selected by the Audio Publishers Association, who organized the evening.
This year also marks the return of the Audie Award® for Spanish Language, which was last awarded in 2010. Penguin Random House Grupo Editorial received the Spanish-language prize at the event, hosted by John Leguizamo, with PRH Audio authors Tommy Orange and Melissa De La Cruz among the judges—who collectively listened to over 14,000 hours of audio book recordings to reach their decisions.
Our Audie Awards winners:
FICTION
SUCH A FUN AGE by Kiley Reid, narrated by Nicole Lewis, produced by Sarah Jaffe (Penguin Audio)
LITERARY FICTION & CLASSICS
THE DEATH OF VIVEK OJI by Akwaeke Emezi, narrated by Yetide Badaki and Chukwudi Iwuji, produced by Orli Moscowitz (Penguin Audio)
HISTORY/BIOGRAPHY
HIS TRUTH IS MARCHING ON by Jon Meacham, afterword by John Lewis, narrated by JD Jackson and Jon Meacham, produced by Kelly Gildea (Random House Audio)
HUMOR
A VERY PUNCHABLE FACE by Colin Jost, narrated by the author, produced by Laura Wilson (Random House Audio)
SPANISH LANGUAGE
EL LABERINTO DEL FAUNO, by Guillermo del Toro and Cornelia Funke, narrated by Luis Ávila, published by Penguin Random House Grupo Editorial México
Congratulations to PRH Audio and PRH Grupo Editorial, their publishers, producers, authors and narrators.
Posted: March 23, 2021