PRH Audio's 3 GRAMMY® nominees: Obama, Rubin, Sanders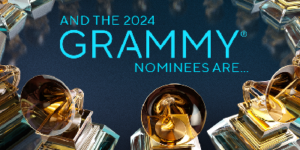 The sweetest sounds we heard the morning of November 10 emanated from the Los Angeles-based Recording Academy®, announcing that three Penguin Random House Audio productions have been nominated for a GRAMMY® Award for "Best Audio Book, Narration, and Storytelling Recording" :
THE LIGHT WE CARRY: Overcoming in Uncertain Times, narrated and written by Michelle Obama. (Random House Audio)
 THE CREATIVE ACT: A Way of Being, narrated and written by Rick Rubin. (Penguin Audio)
IT'S OK TO BE ANGRY ABOUT CAPITALISM, written by Senator Bernie Sanders with John Nichols, narrated by the Senator. (Random House Audio)
The other two nominees in this category: Meryl Streep and William Shatner.
The winner will be announced Sunday, February 4 in an afternoon ceremony live-streamed from Los Angeles just prior to the GRAMMY® evening telecast broadcast nationally on CBS-TV and Paramount+.
Humbly noting an accomplishment that surely is without peer from a non-music company: recordings from authors published by Penguin Audio and Random House Audio have been nominated for GRAMMYs® 52 times and won 17.
Two of those nominations and wins were earned by Michelle Obama, for "American Grown: The Story of the White House Kitchen Garden and Gardens Across America," published when she was First Lady, and the latter for "Becoming," her #1 bestselling, critically acclaimed memoir.
Drawing on her experiences as a mother, daughter, spouse, friend, and First Lady, she shares in "The Light We Carry" practical wisdom and powerful strategies for staying hopeful and balanced.
"The Light We Carry" Random House Audio was produced by Dan Zitt and Scott Creswell, and simultaneously published as Crown hardcover and e-book in November 2022.
Rick Rubin is a legendary music producer, and a master at helping people connect with the wellsprings of their creativity. In his #1 bestselling "The Creative Act," he distills his lifetime of putting the power to create moments—and lifetimes—of exhilaration within wide reach of all of us.
This is Rubin's 19th GRAMMY® nomination, having won the trophies for his recording contributions nine times. " The Creative Act" Penguin Audio was produced by Dan Zitt and Rubin, and published  in print and digital editions by Penguin Press in January.
"It's OK To Be Angry About Capitalism" is Senator Bernie Sanders' progressive takedown of the uber-capitalist status quo that he believes has enriched millionaires and billionaires at the expense of the working class, offering a transformational blueprint for change.
The Crown hardcover and e-book were published this February, with the Random House Audio, produced by Linda Korn.
Further noting that five of the past nine GRAMMY® audiobook winners have been ours. Most recently, "Blowout," read and written by Rachel Maddow (2021), and Mrs. Obama's "Becoming" (2020).
High-decibel CHEERS for our nominees, their production teams, and the entire Penguin Random House Audio group. Vocal cords and ears crossed for more sweet sounds on February 4.
Posted: November 13, 2023