PRH Audio's "Meet the Voice" Presents Deepti Gupta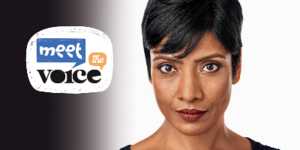 The Penguin Random House Audio video series, Meet the Voice, debuted in September and has released its fifth installment, featuring audiobook narrator Deepti Gupta in conversation with PRH Audio producer Amber Beard.
Deepti talks to Amber about how she began her audiobook narration career while seven months pregnant in a home recording booth built by her husband. Deepti also shares insights into her work on such titles as Fatima Farheen Mirza's A PLACE FOR US ("Such a beautiful story about being parented and parenting … You start to feel like you know these people.") and Alina Boyden's STEALING THUNDER ("The first time I narrated a female South Asian character in a fantasy world."). When asked about the best advice she received, Deepti said, "Breathing … it opened up a whole thing for me and I pay more attention to my breathing in general, and what my breathing can tell me about how I'm feeling.")
With Meet the Voice, PRH Audio puts the spotlight on its narrators through one-on-one discussions with their producers. The narrators talk about their careers, what it's like inside and outside of the recording booth, and some of their recent narrations.
To watch Deepti Gupta and Amber Beard on Meet the Voice, click on the video window below:
Posted: January 4, 2021