PRH Audio's "Meet the Voice" Presents Narrator Dominic Hoffman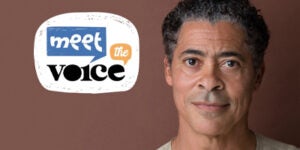 The Penguin Random House Audio video series, Meet the Voice, has released its fourth installment, featuring audiobook narrator Dominic Hoffman, in conversation with PRH Audio Executive Producer Linda Korn.
Dominic and Linda discuss the recording and production of BLACK FUTURES, edited by Kimberly Drew and Jenna Wortham; James McBride's DEACON KING KONG, of which Hoffman says, "All these characters have rhythms, and you just ride them … like Shakespeare;" and the emotional experience of narrating Yaa Gyasi's HOMEGOING. Hoffman also shares that he has always been a writer and how acting on stage, screen, and television (his TV credits include The Shield, NYPD Blue, and The Jamie Foxx Show) evolved into him narrating audiobooks. One of his narrator preparation tips: "Get rest. When you're tired, the first thing to go is your voice."
With Meet the Voice, PRH Audio puts the spotlight on its narrators through one-on-one discussions with their producers. The narrators talk about their careers, what it's like inside and outside of the recording booth, and some of their recent narrations.
To watch and listen to Dominic and Linda on Meet the Voice, click on the video window below:
Posted: December 11, 2020