PRH Authors Awarded National Humanities Medals and National Medal of Arts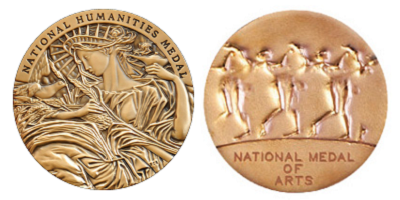 On March 21, President Biden presented the National Humanities Medals and National Medal of Arts at the White House to an amazing group of highly accomplished humanitarians, authors, musicians, and actors. We are proud that among those awarded the National Humanities Medal were three current Penguin Random House authors: Bryan Stevenson, Tara Westover, and Colson Whitehead. Additionally, PRH backlist authors Johnnetta Betsch Cole and Amy Tan are also new medalists. The National Humanities Medal celebrates those whose work "has deepened the nation's understanding of the human experience, broadened the citizen's engagement with history or literature, or helped preserve and expand Americans' access to cultural resources."
Bryan Stevenson (JUST MERCY) is honored "for his moral call to redeem the soul of our Nation. An advocate fighting tirelessly for the poor, incarcerated, and condemned, Bryan Stevenson follows the Book of Micah's instruction to act justly, love mercy, and walk humbly as he chronicles the legacy of lynching and racism in America, shining a light on what has been and all that we can be as a Nation."
Tara Westover (EDUCATED) is recognized "for turning American life into literature. Tara Westover's memoirs of family, religion, and the transformative power of education, has moved millions of readers and served as a powerful example of how the humanities can set people—and a Nation—free."
Colson Whitehead (HARLEM SHUFFLE, THE NICKEL BOYS, THE UNDERGROUND RAILROAD, THE NOBLE ONE, ZONE ONE, SAG HARBOR, APEX HIDES THE HURT, THE COLOSSUS OF NEW YORK, JOHN HENRY DAYS, and THE INTUITIONIST) is honored for "his truth-seeking as an American literary icon. With genre-defying craftsmanship and creativity, Colson Whitehead's celebrated novels make real the African American journey through our Nation's continued reckoning with the original sin of slavery and our ongoing march toward a more perfect Union."
Also at the ceremony, Mindy Kaling, author of the enormously popular WHY NOT ME? and IS EVERYONE HANGING OUT WITHOUT ME? (And Other Concerns), and Bruce Springsteen, co-author of Renegades: Born In The USA with Barack Obama, received the National Medal of Arts.
Congratulations to all.
You can watch the recorded live stream below.
Posted: March 23, 2023