PRH Authors Featured in A.O. Scott's "The Americans" NYT Series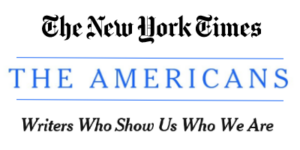 A.O. Scott, New York Times critic at large and co-chief film critic, has been writing a periodic essay series called "The Americans," dedicated to revisiting and personally reappraising a range of American authors, "some well known, some unjustly forgotten, some perpetually misunderstood," a number of them published by Penguin Random House.
Mr. Scott's thought-provoking essays take a fresh look at "writers who show us who we are." As Mr. Scott informed in the preface to his series, which debuted in June 2020, "The books under discussion don't avoid the perennial hot buttons of race, gender, sex, region and religion, but they offer perspectives on the question of American identity that challenge our pieties as well as our cynicism. Reading them now, again or for the first time, might represent a modest act of patriotism, a pledge of allegiance to the republic of American letters."
Among the writers Mr. Scott has covered in his series are Vintage authors Wallace Stegner and Joy Williams, as well as Richard P. Jones and Tillie Olsen.
The most recent installment of "The Americans" is devoted to Vintage author William Maxwell: In William Maxwell's Fiction, a Vivid, Varied Tableau of Midwestern Life.
An excerpt: "Moderation is an ambiguous gift for a writer. Fortune — or at least a literary culture attuned to grand ambitions and turned on by gestures of transgression — favors the bold. The dominant style, particularly among male novelists of the middle and later decades of the 20th century, has been melodramatic self-display. Big books, big personalities, big swinging ideas. Sex, manhood, history, modernity, America. Maxwell writes about all those things, but without the narcissistic presumption that he belongs at the center of the story. He is always in the story, of course. He's the watchful, sensitive second child; the diffident husband; the attentive father; the awkward but devoted friend. The reliable narrator."
To read Mr. Scott's complete essay on William Maxwell, click here.
Check out other installments of "The Americans" series here.
Posted: August 30, 2021