PRH Celebrates World Read Aloud Day With LitWorld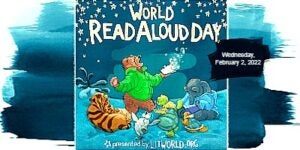 Penguin Random House is thrilled to celebrate the thirteenth annual World Read Aloud Day today, February 2, in partnership with LitWorld, a non-profit organization that aims to strengthen children and communities by using literacy as a tool and pathway for self-empowerment. World Read Aloud Day focuses on the power of reading aloud and last year, we saw just how powerful it is, with the campaign reaching over 931 million people. With virtual read-alouds, live events, activities and resources, World Read Aloud Day has a variety of engaging tools to inspire kids around the globe to read out loud.
Penguin Young Readers, Random House Children's Books and Brightly have joined together to offer additional online tools and content, accessible to kids nationwide, to enhance the joy and power of reading, and share stories for World Read Aloud's virtual celebrations. PYR and RHCB have both prepared reading lists for children of all ages with a focus on titles by Black authors and illustrators in honor of Black History Month.
With a variety of books to choose from, children are sure to find a favorite read! PYR's list includes HAIR LOVE by Matthew A. Cherry, illustrated by Vashti Harrison; THE YEAR WE LEARNED TO FLY by Jacqueline Woodson, illustrated by Rafael López; LAST STOP ON MARKET STREET by Matt de la Peña, illustrated by Christian Robinson; RHCB's list includes WHY NOT YOU? by Ciara and Russell Wilson, illustrated by Jessica Gibson with JaNay Brown-Wood; BLACK BOY JOY edited by Kwame Mbalia; VINYL MOON by Mahogany L. Browne, and many more books!
Brightly has added storytime videos featuring a diverse range of authors and books. Videos can be viewed here and include NOSTROS MEANS US with Paloma Valdiva; DIFFERENT – A GREAT THING TO BE! with Heather Avis; and LAXMI'S MOOCH with Shelly Anand.
Thank you to all our colleagues who helped make this year's World Read Aloud Day a successful and engaging event! To share your own World Read Aloud Day celebrations or to spread the word, use #WorldReadAloudDay on social media.
Posted: February 2, 2022