PRH Creative Writing Awards Alumnus Elizabeth Acevedo NBA Finalist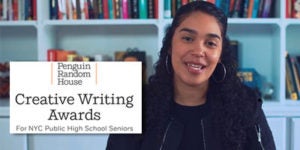 Elizabeth Acevedo, an alumnus of Penguin Random House's Creative Writing Awards (CWA), is a finalist for a 2018 National Book Award in the Young People's Literature category for her book, POET X (Harper Teen), a New York Times bestseller. Elizabeth was the recipient of a 2nd place scholarship award of $5,000 for her poem "Vicious Cycle" in our 2006 CWA program – then called Bertelsmann's World of Expression Scholarship program. $2.6 million dollars in scholarships have been awarded to New York City high school writers since the program's inception in 1993.
"A high school senior at The Beacon School in Manhattan's Hell's Kitchen neighborhood, I remember well Elizabeth's spoken-word performance at our 2006 awards program – it was incredibly electric and completely stole the show," said Melanie Fallon-Houska, Director of Corporate Giving at Penguin Random House. "For all of us who are part of our Creative Writing Awards, this is a true moment of pride to have one of our worthy recipients receive this superlative recognition."
Elizabeth recently gave her heartfelt remarks recalling her CWA recognition via video for our Penguin Random House Creative Writing Awards 25th Anniversary Awards Show. She said, in part: "When I wrote the poem 'Vicious Cycle,' it wasn't for a competition. It wasn't for any accolades. It was because I saw something happening in my neighborhood and I had to speak about it, and that urgency that is what makes writing connect us … It was really great to receive the scholarship. At the time, I wasn't sure how I was going to be able to afford college. To have this small accolade really affirm that not only my writing mattered but that it was going to help me go to school ­­was huge."
You can view Elizabeth's complete congratulatory video here.
Posted: October 18, 2018