PRH Education, NCTE and The Moth Partner for 10th Annual Event for Educators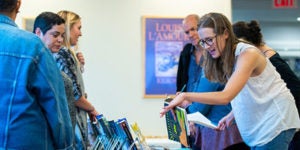 Last week, Penguin Random House Education held their Tenth Annual Event for Educators. In partnership with the National Council of Teachers of English (NCTE) and The Moth, our Education team hosted several dozen teachers in the L'Amour Room at 1745 Broadway for a storytelling workshop.
The event began with an opening from Michael Gentile, Vice President, Director of Education Marketing, who welcomed our guests and gave a brief overview of the day. Then, Emily Kirkpatrick, the Executive Director of NCTE, spoke to the assembled educators—all of whom were NCTE members themselves—about the upcoming National Day on Writing, October 20, and the programming throughout the month of October that the organization had planned in celebrating it.
The workshop itself was organized and led by Moth representatives Micaela Blei, Director of Community and Education Programs, and Catherine McCarthy, Manager of The Moth's Education Program. The Moth is a nonprofit group that for the past twenty years has organized events, including Mainstage shows and StorySLAM competitions, where true stories are told live and aloud to audiences. Blei shared a story of her own, and then along with McCarthy taught attendees the strategies and craft involved in telling a Moth-style story, emphasizing skills and ideas that attendees could carry back into the classroom for use with their own students.
Following the workshop, Travis Temple, Penguin Random House's K-12 Education Sales Director, delivered a closing address. Afterward, Emily Kirkpatrick, Micaela Blei, and Catherine McCarthy participated in short interviews with our video team, which—along with footage of the actual workshop—will be posted to the Penguin Random House Education YouTube channel.
All attendees received a copy of THE MOTH PRESENTS ALL THESE WONDERS, a postcard containing information on the upcoming The Moth Presents Occasional Magic, and an NCTE tote bag. Attendees were also able to browse a curated list of titles dealing with personal narrative and storytelling, which they were able to request as examination copies to review for classroom use.
Of the day overall, Michael Gentile said, "This event provided Penguin Random House a unique opportunity to engage educators through a complementary partnership with NCTE and The Moth. Both esteemed organizations share our mission of literacy, learning, and storytelling; it was another plus that we were able to place our authors and our books at the center of that discussion."
All photos courtesy of the National Council of Teachers of English.
Posted: October 17, 2018