PRH Expands Partnership With PEN America, Pledges $100K to Honor Centenary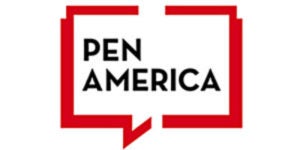 At a time of intense polarization, rising disinformation, and attacks on the very meaning of truth, Penguin Random House has pledged a one-time gift of $100,000 in honor of the centennial of PEN America, the premier organization defending freedom of expression, writers, and the open discourse that underpins a healthy democracy. PRH, which has long shared PEN America's mission, has further committed to expanding its wide-ranging partnership to safeguard free speech and banned books, with an increase in its financial support for these issues over the next five years.
PEN America has fearlessly defended writers and others targeted and menaced for their work. The organization has built groundbreaking programs to counter disinformation, protect writers and journalists from online harassment, and elevate and amplify lesser heard voices within an evolving literary canon. PEN America is at the forefront of fostering a vibrant literary culture through its prestigious literary awards, PEN World Voices Festival and a robust slate of literary programming in New York, Los Angeles and chapters throughout the country.
Suzanne Nossel, CEO, PEN America, said: "We are grateful and inspired that Penguin Random House is expanding its generous support for PEN America at this critical time. Rising authoritarianism around the world, coupled with flagging support for freedom of speech here in the United States underscore the urgency of our work to uphold open expression and defend those who stand for it. This vital support will allow us to double down in support of writers and the written word in the face of unprecedented pressures."
Claire Von Schilling, EVP and Director, Corporate Communications & Social Responsbility, Penguin Random House, said: "This is a once-in-a-lifetime moment for PEN America and a tribute to the extraordinary force and staying power of the organization and its mission of support for the freedom to write. That it coincides with a time of unprecedented urgency in the struggles PEN America is waging on behalf of authors and free speech reinforces our commitment to play a part in girding PEN America for its next century of leadership."
Penguin Random House's increased giving to PEN America builds upon a longstanding partnership between the organizations, such as Book the Vote, a nonpartisan initiative during the 2020 election to combat disinformation and ensure every voter's right to participate in elections. As a global publishing community, Penguin Random House is passionate about upholding the right to free expression, and, through its partnership with PEN, protecting writers worldwide against unjust censorship and other constraints on the freedom to write.
Posted: February 11, 2022