PRH Grupo Editorial's Verónica Cervera Earns B&N Award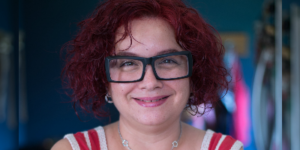 Verónica Cervera, Sales Manager at Penguin Random House Grupo Editorial, was presented with the Barnes & Noble Rep of the Year Award for University Press, Small Press or Specialty Publishing last week. Verónica has been at Penguin Random House Grupo Editorial USA for 23 years (including 19 years with Santillana USA), giving her great expertise in the US Hispanic market. She specializes in several Spanish-language categories, including Fiction, Nonfiction, Romance, Children's, Cooking and Motivational, among others.
Joe Gonnella, Barnes & Noble Vice President, Publisher Relations, offered this praise: "Verónica Cervera represents more than a dozen imprints. But even with this daunting responsibility, she earns high marks from us for being on top of the market share and sales opportunities."
Buyer Amanda Schilling said, "Most of her titles are published overseas and she does a fine job juggling their different schedules. Her buying expectations are realistic, she always goes the extra mile to find the right comp title, and her follow up is impeccable."
This is the first time ever that Barnes & Noble has given this award for books in Spanish. Kudos and congratulations to Verónica for positioning Penguin Random House Grupo Editorial at the very top.
Posted: December 10, 2018