PRH Launches End-of-Year Campaign: Find Your Light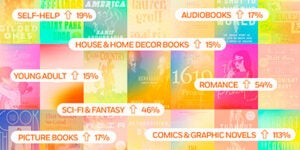 The Consumer Marketing team is proud to announce the launch of our year-end brand campaign: The Year in Books 2021—Find Your Light. When looking back on the totality of 2021, we were blown away by how profoundly our books and authors have shaped and influenced culture this year—both in terms of driving conversation and in terms of how people have chosen to spend their time. So, we wanted to honor that. The campaign celebrates how books and authors have brought light to the world this year in all different ways, drawing on Amanda Gorman's iconic words that started our year: "Where can we find light in this never-ending shade?"
Books have allowed us to feel our feelings deeply, provided moments of escape and joy, have taught us new things, inspired us to action, given us community, and so much more. Our goal is to inspire new readers to discover what brings them joy and purpose, celebrating the power of books to shape us as individuals and as a culture. Drawing on major themes of the year, book trends and moments, and stats about reading culture, we are excited to start presenting Penguin Random House as the place to find out what the world was reading this year—like Spotify for listening or Google for searching. And media is already making that comparison themselves, with amazing coverage live on AdAge and It's Nice That!
Two key pieces of the campaign are the spotlight video, narrated by our own Phoebe Robinson, and this editorial piece, written by book critic Maris Kreizman and 14 of our authors: Emma Straub, Jasmine Mans, Ali Hazelwood, Martha Beck, Eric Nguyen, Namina Forna, Katherine May, Robert Jones, Jr., Vallery Lomas, Areli Morales, Violet Kupersmith, Senator Sarah McBride, Steven Pinker, and Megan Abbott. These take viewers on a journey through the year in books, highlighting books that went viral, major movements, and more. We use kinetic typography, readership statistics, author imagery and video, and user generated content to show real-life interaction with our books and authors.
We are so thrilled to be spotlighting our incredible authors with this campaign, and to remind people of the power of books.
Posted: December 3, 2021