PRH Partners With Aesop for Second Year to Launch Queer Libraries Across America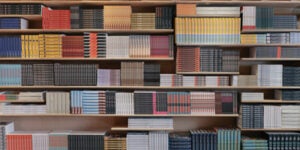 Penguin Random House is proud to announce that we've partnered with skincare brand Aesop for a second year to bring Queer Libraries to cities across North America.  From June 20 to June 26, Aesop will clear the shelves at their stores in New York, Los Angeles, and Toronto, and fill them with colorful displays of books from a multitude of voices, with the goal of cultivating an awareness of the intersectionality of race, gender, and sexuality, and highlighting a more expansive view of the queer canon. 
Books are complimentary – no purchase necessary – and guests can select from among 140+ titles, including works by this year's featured authors: Isaac Fitzsimons, Vivek Shraya, Meredith Talusan, Paul Tran, and Alok Vaid-Menon. In addition to being featured in stores, these authors will also be promoted on aesop.com and across the brand's email and social media platforms throughout the summer.
Penguin Random House and our partners at PRH Canada donated nearly 10,000 books to this initiative, and Aesop will supplement the collection with books purchased from two LGBTQ+ owned bookstores – BookWoman in Austin, Texas, and Glad Day in Toronto. We're also collaborating with our international publishing partners to help bring Queer Libraries to cities across the globe as pride celebrations continue.
We hope you'll check out the Aesop Queer Libraries starting this week in New York, Los Angeles, and Toronto, and will spread word of this exciting partnership. For questions, comments, or feedback, please contact Susu Rawwagah or Carly Gorga.
Posted: June 22, 2022