PRH Partners with Drag Queen Story Hour to Produce Literary Drag Show at NYPL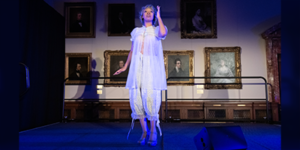 Last month, Penguin Random House partnered with Drag Queen Story Hour to produce an exciting Literary Drag Show as part of The Library After Hours: Pride edition. Hosted by the New York Public Library with support from the Penguin Random House LGBTQ Network, the June 21 show featured performances by Harmonica Sunbeam, Miz Jade, Witti Repartee, Lee VaLone, Ash Blight, and Cétait BonTemps.
The six performers all put on exhilarating acts with a literary focus. The evening was full of readings, lip-syncing, talks, draglesque numbers, and costume-changes into beloved characters such as Little Red Riding Hood, Tinkerbell, and Gandalf. Audience members were even brought up on stage for queer trivia, making for a jam-packed night of learning and entertainment.
In addition to the show, attendees had the chance to view the Love & Resistance: Stonewall 50 and Walt Whitman: America's Poet exhibitions, explore the NYC Trans Oral History Project, hear readings culled from The Library's vast LGBTQ archives, and enjoy many other Pride Month events sponsored by the Library.
Drag Queen Story Hour is a pioneering organization that focuses on literacy and acceptance by organizing events at libraries, schools, and bookstores where drag performers read to children. The program prevents bullying and encourages young people to embark on an exploration of self, all while providing an enjoyable literary experience.
All photos by ©Alice Proujansky, courtesy of The New York Public Library.
Posted: July 9, 2019