PRH Partners With NYC Pride on 2022 Parade Activation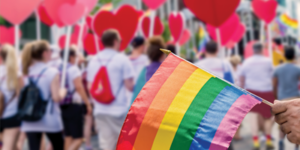 Penguin Random House has teamed up with NYC Pride and creative agency Havas New York on a campaign seeking to counteract the 300+ bills U.S. lawmakers have introduced this year that impose limitations on the freedoms of the LGBTQIA+ community.   
Speaking directly to the theme of this Sunday's New York City Pride March Unapologetically Us, "Bill Boards" will line the parade route, each calling attention to a different piece of legislation and encouraging participants and spectators to #BuryTheBills with a dose of queer love inspired by the words of our authors.
QR codes on each of the "Bill Boards" will automatically fax a collection of excerpts to the lawmakers responsible for the bills in an effort to spread love and ultimately change their minds.
Books highlighted in this year's collection include All the Flowers Kneeling by Paul Tran, Rainbow Milk by Paul Mendez, I Know You Know Who I Am by Peter Kispert, When Katie Met Cassidy by Camille Perri, and Boy Meets Boy by David Levithan.
To offset the paper used in the campaign, Penguin Random House will work with our partners at One Tree Planted to plant a tree for every fax sent.
Our authors and books have always existed at the forefront of the cultural conversation, and our hope in joining this movement is that even more people will see – and truly understand – the power in their words, that it will spark meaningful action, and that it will move us toward a better future.
For questions about #BuryTheBills, please contact Carly Gorga.
Posted: June 24, 2022