PRH Partners with NYPL and Author Kazuo Ishiguro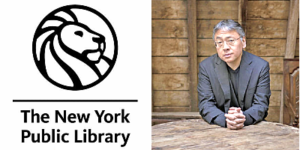 Penguin Random House is proud to continue our Social Responsibility partnership with the New York Public Library to triple amounts donated to the organization from Tuesday, June 23 to Wednesday, June 24. This program is part of PRH's ongoing commitment to support a culture of reading and build the widest audiences for our authors. Our partnership with NYPL will ensure that New Yorkers can utilize the vital services provided by their libraries free of charge, including access to books, computers, early literacy workshops, and job training classes. While the New York Public Library's doors may be shut in the short term, their librarians are working hard to ensure that New Yorkers continue to have free access to e-books and many other online resources. To learn more about how to access the library's digital resources click here.
This year, we teamed up with Knopf author Kazuo Ishiguro to encourage readers to participate in the campaign and make a donation to the NYPL. In an email sent out to donors, Mr. Ishiguro discussed the role libraries played in broadening his literary world and jumpstarting his writing career. "Libraries have never let me down, and my favorite books have never let me go," he wrote. "All of my reading paved the way for my becoming a writer. But I never could have started down this path without the help of public libraries."
To contribute to the New York Public Library, and support New York's vibrant reading community, click here.
Posted: June 23, 2020