PRH Partners With Save the Children & Zulily to Make Summer Fair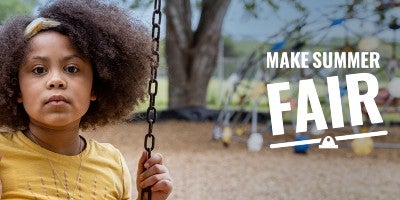 Since 2014, Penguin Random House and Save the Children have worked together to nurture the next generation of readers, ensuring that even the most vulnerable children have access to books and the opportunity to realize their full potential.  For the fifth year, Penguin Random House is supporting Make Summer Fair, Save the Children's Summer Reading Campaign. The campaign was created to foster continuous learning over the summer months and to ensure that children in rural America, many of whom have limited access to books, have the opportunity to keep reading.
 "Summer isn't fair for many rural children. The last day of school, for them, can mean no more access to books, regular meals and art supplies, and the end of exercising and playing with friends until the next school year," said Betsy Zorio, Vice President of U.S. Programs for Save the Children. "When children are unable to keep learning, creating and growing throughout the summer months, they not only fall behind their peers, but may never catch up – which can have lifelong consequences. The Make Summer Fair campaign – and its strong network of partners and supporters – is working to eliminate the deep inequities rural kids struggle with every summer, so they can thrive as learners and in life."
To further increase our impact, Penguin Random House is a teaming up with zulily, the online retailer dedicated to bringing special resources to its customers every day, to help provide books to children in need across the nation with a  "Buy 1, Give 1" campaign. The campaign launches tomorrow, July 14, and continues through August 25. During the "Buy 1, Give 1" summer campaign, special sales events will feature a curated selection of children's books, and each Penguin Random House book purchased will trigger a new children's book donation, up to 50,000 books, from Penguin Random House to Save the Children.
To learn more about this campaign take a look at the video below.
Posted: July 13, 2023