PRH Partners with the L.A. Dodgers to Provide Books for Children During Dodger Days Drive-Thru Events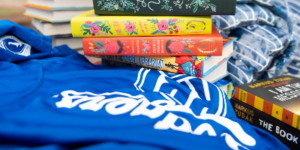 Throughout the year, the Dodgers Reviving Baseball in Inner Cities program typically hosts Dodger Days as community-based resource fairs at local parks for thousands of kids and their families in Southern California. In response to COVID-19, the new "drive-thru" series is an adjustment from its in-person format. The Los Angeles Dodgers Foundation (LADF) conducted a needs assessment with the Dodgers RBI families, their youth development program for 5 to 18-year-olds. Of the youth currently enrolled in this program, 25% have household incomes below $20,000 annually. Through this assessment, they found that the majority of families indicated lack of access to books as a barrier to distance learning.
The LADF hosted five drive-thru events in June, providing over $480,000 in food boxes, exercise and fitness resources, softball and baseball equipment, books, and educational support to feed families and help youth stay active and healthy.
Penguin Random House donated 500 books that were given away to attending families for their children.
Through the LADF, the Dodgers have been providing critical donations to support the local COVID-19 relief efforts that will hopefully uplift significantly impacted Angelenos, including the most vulnerable populations. In 2017, PRH also partnered with the L.A. Dodgers and LADF on their joint initiative, LA Reads, to help address the literacy crisis in Los Angeles, by getting children excited about reading, with a special event at the Los Angeles Central Library.
View a selection of photos from the Dodger Day Drive-Thru Series here.
Posted: September 26, 2020