PRH Presents Its First-Ever "Virtual Con" All Day Friday (4/24)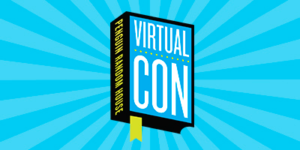 Penguin Random House is hosting a virtual convention, #PRHVirtualCon, in partnership with Reddit for AMA and #RPAN activations, featuring some of our bestselling authors on Reddit and PRH social media platforms, on Friday, April 24, from 9:00 am to 7:00 pm (ET).
All PRH Virtual Con events are listed on the PRH Virtual Con page. Follow #PRHVirtualCon, @PenguinRandom, @reddit, and redditblog.com for live updates.
Lindsey Elias, Penguin Random House's Director of Consumer Shows and Conventions, says, "We're thrilled to take the experience of being at a convention and translate certain aspects into virtual activities. We are excited to connect with our readers during this difficult time and give our authors and their books the attention that they deserve. We're looking forward to partnering with Reddit for Author AMAs and live readings throughout the day."
Alexandra Riccomini, Reddit's Senior Director of Business Development & Media Partnerships, says, "With almost 18 million subscribers to the r/books community — and many other communities spanning various genres — thoughtful and passionate conversations about authors and books are thriving on Reddit. We're delighted to partner with Penguin Random House to bring access to their authors directly to redditors through both AMAs and our livestreaming platform RPAN. Hosting a partner's virtual convention on our platform is a new kind of partnership for us, and one that feels especially valuable during this time."
Here are some of the ways to participate in PRH Virtual Con:
On Reddit, connect with Naomi Novik (A Deadly Education), Kim Harrison (American Demon), Andrea Robertson (Forged in Fire and Stars), and many more.
Watch Chris Bohjalian(The Red Lotus), Max Berry (Providence), Camilla Lackberg (The Golden Cage), and others give live readings and Q&As on Reddit's #RPAN.
On social media, test your "geeks"-pertise on PRH's Unbound Worlds' Facebook community in Geek Geek Revolution—a pop culture game show featuring such authors as Jim Butcher(Dresden Files), Emily St. John Mandel (The Glass Hotel), and Lev Grossman (The Magicians),
Follow Chuck Wendig (The Wanderers), Samantha Irby (Wow, No Thank You), and Josh Malerman(Malorie) on their Twitter pages and #PRHExquisiteCorpse, as they create an entire story from scratch in "ExquisiteCorpse."
For a complete PRH Virtual Con schedule, including a list of authors and virtual events, click here.
!!A reminder for PRH employees: If you are posting this article to a personal or other non-PRH account you must include the hashtag #TeamPRH.!!
Posted: April 23, 2020