PRH, PRHPS 2021 International Booker Longlisters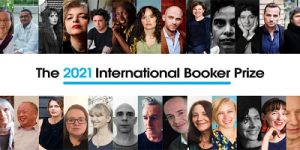 This year's International Booker Prize thirteen-title longlist includes one Penguin Random House and two Penguin Random House Publisher Services client-publisher titles. The shortlist for the London-based competition will be announced April 22, and the winner will be revealed in a virtual celebration June 2.
THE DANGERS OF SMOKING IN BED by Mariana Enríquez, translated from Spanish by Megan McDowell (Hogarth)
WHEN WE CEASE TO UNDERSTAND THE WORLD by Benjamín Labatut, translated from Spanish by Adrian Nathan West (New York Review Books, a PRHPS client publisher)
THE WAR OF THE POOR by Éric Vuillard, translated from French by Mark Polizzotti (Other Press, a PRHPS client publisher)
Our congratulations to Ms. Enríquez, Mr. Labatut and Mr. Vuillard, and to their translators, editors and publishers.
To view the complete 2021 International Booker Prize longlist, click here.
Posted: April 5, 2021