PRH, PRHPS Finalists Vie for the 2021 Locus Awards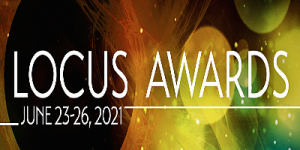 The Locus Science Fiction Foundation has announced the top ten finalists for the 2021 Locus Awards, with several Penguin Random House authors and imprints among the nominees. The Locus Awards, first presented in 1971, annually recognize literary excellence in the sci-fi/fantasy genre, and are voted on by readers of the science fiction and fantasy magazine, Locus.
ThIs year's Locus Awards winners will be announced June 26, during the virtual Locus Awards Weekend.
Our finalists:
Science Fiction Novel
AGENCY by William Gibson (Berkley)
Horror Novel
DEVOLUTION by Max Brooks (Del Rey)
THE DEEP by Alma Katsu (Putnam)
MEXICAN GOTHIC by Silvia Moreno-Garcia (Del Rey)
First Novel
THE VANISHED BIRDS by Simon Jimenez (Del Rey)
THE SPACE BETWEEN WORLDS by Micaiah Johnson (Del Rey)
THE MERMAID, THE WITCH, AND THE SEA by Maggie Tokuda-Hall (Candlewick, a PRHPS client publisher)
Anthology
A PHOENIX MUST FIRST BURN: Sixteen Stories of Black Girl Magic, Resistance, and Hope, edited by Patrice Caldwell (Viking)
THE BIG BOOK OF MODERN FANTASY, edited by Ann and Jeff VanderMeer (Vintage)
Publisher
DAW
Del Rey
Visit the 2021 Locus Awards Information page for more details.
Posted: May 10, 2021