PRH & PYR Donate 10,000 Books to Local Teacher on TODAY Show Teacher Appreciation Segment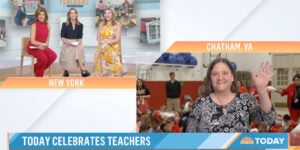 As part of the "TODAY Celebrates Teachers" series on the TODAY Show yesterday, Penguin Random House and Penguin Young Readers collectively donated 10,000 books to support Virginia fifth-grade teacher Jenny Williams. Known in her small town of Danville, VA as the "book lady," Williams is on a mission to donate 1 million books to children in her community.
Williams, who has been a teacher for 32 years, first began to distribute book to kids in 2017 by purchasing them herself and accepting donations from friends and neighbors in her community. With a goal of ensuring "no one who wants a book leaves without one," she makes sure local libraries are never empty, school bookshelves are filled, and even keeps books in her car just in case. Williams also coordinates and leads a weekly women's book club at the Danville Jail.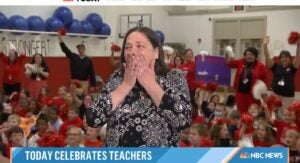 On the TODAY segment with Jenna Bush Hager, Hoda Kotbe and Savanna Guthrie, Williams joined live from Chatham Elementary School in Danville as she received the surprise book donation, which featured titles for children and adults. PYR titles included THE DAY CRAYONS QUILT, CHANGE SINGS, BROWN GIRL DREAMING, BETTER TOGETHER, LLAMA LLAMA FAMILY VACATION, CALL US WHAT WE CARRY, WHEN WE FLY and more. The books will be distributed to schools, the local jail, and nonprofit organizations, including PRH partner Little Free Library. With the 10,000 books donated by PRH and PYR, Williams has now reached the milestone of donating 100,000 books to local children and is closer than she ever has been to her ultimate goal of 1 million books.
"I know personally the value of reading, the ability to read, the magic of stories. I wanted to make sure that my little town has books," Williams said.
The complete TODAY Show segment can be viewed here.
Posted: April 28, 2022