PRH Recruitment Outreach and Partnerships Team Talks Breaking Into Publishing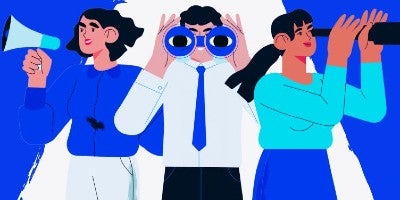 In Updates from HR's Recruitment Outreach and Partnerships Team, one big effort for 2022 has been to enhance our employer brand presence on social media to help draw in more candidates from different backgrounds and to supply information to make the publishing industry more accessible to all. On our Careers Instagram, we have reached over 20k accounts, increased our follower count by 10% in just a few months and are continuing to grow consistently. If you haven't already, please follow our Instagram, @PRHCareersUS and when you can, please share!  
Natalie Loucas, Vice President, Human Resources Director, is responsible for Recruitment Outreach and Partnerships, working closely with our Talent Acquisition Team. She is also the HR Generalist for the Penguin Publishing Group. This team reports to her. 
Meet the team! 
Eboni Rafus-Brenning, Manager Diversity Recruitment – Outreach and Partnerships
In some ways, Eboni has worked in publishing since she was 7 years old. While most kids had a lemonade stand as a child, Eboni had a bookstand where she sold handwritten and stapled copies of her short stories (mostly to her mother's friends) for 25 cents each. Since then, Eboni earned her BFA in Film and Television from NYU's Tisch School of the Arts, an MFA in Creative Writing and an MA in English Literature from the University of Massachusetts, Amherst. She has worked as a middle school and high school English teacher and Diversity, Equity and Inclusion practitioner, in both the K-12 and Higher Education space. When she's not working, she loves to read YA novels (she's especially interested in witches right now) and take care of her toddler, senior dog, and her 50 (yes, 5-0) house plants! Eboni is looking forward to partnering with professional organizations, diversity and inclusion organizations, and community organizations to diversify our applicant pool at Penguin Random House. She'll also work closely with the Talent Acquisition team and hiring managers to help implement equitable hiring processes and to focus on transferable skills as we recruit from adjacent industries.  
How did you come to PRH? 
As a lifelong reader, writer, and all-around book nerd (I had a literature-themed wedding with book titles/covers for table numbers!), I've wanted to work at Penguin Random House for years. Before coming to PRH I worked as an assistant in the film and television industry; I taught literature and creative writing for students in middle school, high school, and college; and I served as a social justice educator and administrator. After the pandemic hit and remote work became a possibility, I saw my chance to finally get a job in publishing without having to pack up my whole life and move to the New York City metro area. When I saw the advertisement for my current position, I felt like it was written specifically for me and I just had to apply.  I am grateful for this opportunity and that our company understands that allowing completely remote work is essential to recruiting and retaining a diverse workforce.  
What skills did you bring to the job? 
After twenty years in entertainment, education, and Higher Education administration, I have become a creative problem-solver, with the optimism necessary to be truly innovative and the analytical and organizational skills required to put my ideas into action. My strong suits are building relationships, working collaboratively with others across divisions and levels, and regularly seeking feedback.  
What advice would you give to someone curious about a career in publishing? 
I would advise aspiring publishing professionals to stay informed- read the trades and blogs, follow the imprints on social media, get involved with your local library, bookstore, or literary organizations. And of course, READ. 
Don't worry if you don't have previous experience in publishing. Many of the skills you've acquired in other industries are transferable and your fresh perspective is appreciated.  
What's a project you're excited about and why?  
I am developing a free, virtual, partially asynchronous Editorial course pilot targeted to BIPoC and Disabled mid-level professionals who are interested in making a career shift to publishing. Much of the editorial process feels shrouded in mystery and if you are a mid-level professional who can't afford to quit your job to take an internship or attend a summer institute, it's hard to get the information you need to make a career shift. This weekend course is designed with the working professional in mind so that is as accessible as possible I believe this course is another step in diversifying our editorial departments and by extension, our content in the marketplace. 
Ayesha Richardson, Campus Recruiter
 Ayesha is an educator by nature, connecting with people through candid conversation, learning and humanity. As an ex-Teacher for the Deaf (TOD) with an MEd in Deaf Education from Hunter College, Ayesha understands the importance of empathy and resilience, building confidence in students and fellow educators to execute on their potential. Ayesha spent 6 years working at the nonprofit City Year to support high risk students with improving their attendance, social emotional learning and grades in ELA and Math, and hired AmeriCorps members into classroom roles to continue their work with New York City communities and students. She believes in the potential of others and pushes people to ask, "Why not?" Ayesha spends her personal time raising her toddler, painting, and visiting small towns with friends. She is looking forward to building on our existing college relationships, creating new ones, and connecting entry-level candidates with their ideal jobs. She is also excited to work with the HR team to help evolve the strategy and intentionality of PRH's internship program. 
How did you come to PRH? 
On a whim, I applied, never thinking I could get a job at PRH. I did not have publishing experience! I never thought my desire to make change through DEI initiatives, my experience with building relationships and my previous HR experience would be transferable and, would bring me here.
What skills did you bring to the job?
For this role, I bring a lot of experience with relationship building and working with students in marginalized areas with diverse experiences. I've worked with students who face disability, homelessness, a lack of resources and citizenship issues. Meeting different families and becoming part of their life and experience is a privilege and it gave me a lot of relationship building skills and the ability to find resources in difficult places to help communities.
What advice would you give to someone curious about a career in publishing?
I recommend that people take time to reflect on what they want to do in publishing and the realistic expectations of that role. People have one view of what publishing is and it is important to know that there is so much more to it! Show your passion and motivation for joining an amazing industry.
What's a project you're excited about and why?
I'm excited to talk with career service advisors about advice for students when applying to jobs. I think many students do not know a lot about benefits, the importance of the cover letter and different roles they can get in publishing departments.
Lucas Caputo, Recruitment Marketing Associate 
Lucas doesn't remember a time when he didn't believe in the power of storytelling.  Between writing prose during Math class or producing low budget short films in his basement, Lucas has always sought to create content for underrepresented groups.  After freelance screenwriting, editing, and directing in the film industry for several years, Lucas decided to make the jump to publishing.  He worked as a temporary Human Resources Assistant at Penguin Random House for 6 months, then moved into his full-time Recruitment Marketing Associate role back in March.  Along with social media management and content creation, his role is to identify efficient and effective marketing methods to attract a broad range of underrepresented talent to Penguin Random House.
How did you come to PRH? 
I was hired for a temporary Production Assistant position in the Audio department back in 2019 and I absolutely loved my experience in that role. When PRH was looking for a temp HR Assistant in 2021, I jumped at the chance to work at the company again. It just so happened that Human Resources was expanding the department around the time my assistant role was ending, so I applied for the marketing position. Happy to be here.
What skills did you bring to the job?
A lot of my experience is in administrative assistance, so I was used to fast paced environments, juggling a lot of tasks, etc. Then, working in the film industry brought a whole other set of proficiencies ranging from project management to creative directing. What I do in my day to day at PRH is a marriage of those experiences and skill sets.
What advice would you give to someone curious about a career in publishing?
There's space for you, even if you don't have a traditional background in publishing. Be yourself and be adaptable – those things can go a long way.
What's a project you're excited about and why?
In the very near future, my team will be rolling out a document called "How to Get Into Publishing." I'm looking forward to it going live because it will (hopefully!) demystify parts of publishing for those who may not know much about the industry and/or are trying to break in. A huge thank you to everyone who contributed to the project and are just as passionate about it as I am.
Posted: September 16, 2022