PRH & School Library Journal Join PEN America, NCTE, NCAC, and FReadom to Create Original Poster for Freedom to Read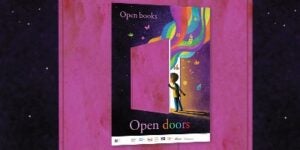 To show support for authors, illustrators, students, parents, librarians, and teachers, Penguin Random House and School Library Journal have partnered with PEN America, the National Coalition Against Censorship, the National Council of Teachers of English, FReadom, and Library Journal to create a poster that emphasizes the importance of free expression as book bans and challenges spread across the country. The poster is included in the May 2022 issue of School Library Journal and amplified by a social media campaign.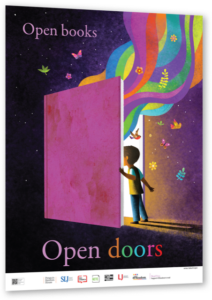 Titled "Open Books, Open Doors," original artwork for the poster was created by award-winning artist Rafael López, illustrator of Just Ask by Justice Sonia Sotomayor and several other children's books published by Penguin Random House. The vivid, colorful illustration features a child stepping into a larger-than-life book as they're transported into a beautiful new world. The back of the poster outlines a call-to-action to visit the Penguin Random House Banned Books Resource Hub, which provides tools, materials, and organizations that educators, librarians, parents, students, authors, and illustrators can turn to in the face of book bans and challenges.
"At Penguin Random House, we believe reading is essential for an informed and engaged democracy. Even—and perhaps most especially—the youngest members of our society benefit by learning about the world through books that showcase a diverse range of perspectives and experiences," said Madeline McIntosh, CEO, Penguin Random House U.S. "We're proud to come together with School Library Journal and our vital partners to support the freedom to read."
"We're honored to stand with our partners thru this important project to amplify the importance of the freedom to read," said Etienne Veber, CEO of MSI, parent company of School Library Journal. "Fostering lifelong learning by connecting readers to high quality books is at the heart of what we do. We support and believe in the power of reading widely and freely to engage readers of all ages and make a better world for all."
In addition to distribution in School Library Journal, a limited run of printed poster copies will be available to educators, librarians, and parents at select industry events and retail locations throughout the summer. The 18×24 poster and social media assets are also available for direct digital download at slj.com/readfree
Posted: May 2, 2022