PRH Sponsors Diverse Voices Fellowships for Penguin Author-Led Sterling College Writing Course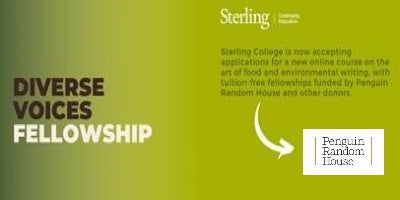 Penguin Random House is sponsoring four Diverse Voices Fellowships for Sterling College's Food and Environmental Writing virtual course taught by Penguin Books author Joe Fassler. The Food and Environmental course is the first class of the "Writing the Wrongs" program held by Sterling College, where the curriculum ensures that students will better examine the ways that storytelling can help or hinder endeavors toward justice and sustainability.
Led by PPG author Joe Fassler, the Food and Environmental Writing course will highlight the ways that politics and power can mold personal experiences by engaging students in discussions, guest lectures, and providing routine in-class feedback. The goal of the course is to coach students to be better able to write about the present with respect to the past, curate intricate stories, and anchor stories about complex systems with dignified character sketches. The course will launch on April 4 and run for 8 weeks.
Through encounters with essential reading in key topic areas—and case studies of coverage that fell short—participants will deepen subject matter familiarity while learning to navigate each genre's unique challenges. The workshop component will then put these lessons into practice, with opportunities for students to shepherd a specific piece of writing toward publication through a process of instructor feedback and peer critique. Students will also discuss professional considerations and pragmatic concerns with an array of guest speakers, including Dr. Cynthia Greenlee, James Beard Award-winning writer and senior editor of The Counter; Matt Klise, associate editor for Penguin Books; and Jenny Dorsey, a chef and writer who directs Studio ATAO, a community think tank advancing systems-based change in media and other industries.
The Diverse Voices Fellowship is available to students who identify as Black, Indigenous, or a Person of Color (BIPOC), students with deep, enduring connections to systemically marginalized communities, or who are military veterans. Accepted students will be able to attend the course free of charge.
For more information about the course, fellowships, and a link to apply, click here.
Posted: March 14, 2022