PRH Sponsors The Reading Team's Anniversary Gala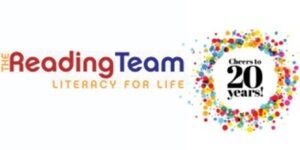 At Penguin Random House, we work every day to help children become lifelong readers. As part of these ongoing efforts, we are proud to support The Reading Team, a Harlem-based organization committed to empowering young children to become enthusiastic readers and writers by equipping them with the skills and habits to support a bright future.
This year, we are pleased to partner with The Reading Team to sponsor its "Cheers to 20 Years! Gala" where Maureen Rover, the organization's founder, will be celebrated alongside its 20th anniversary. The gala will be held on April 25 at the Housing Works in New York City.
Since 2000, The Reading Team has helped more than 13,000 children become effective readers and writers with its free Preschool and After-School programs that implement a five-pillar approach to language learning and reading science, which includes phonemic awareness, phonics, reading fluency, vocabulary, and reading comprehension. Today, the Reading Team is regarded as one of the most helpful programs of its kind and is also considered a lifeline to literacy for the children of Harlem.
Through books and reading, we continue our pursuit to create a world where independent thinking, free expression, and creativity flourish. For more information about The Reading Team and its 20th anniversary celebration, click here
Posted: April 5, 2022