PRH Summer Giving: We Gift Our Books to Shakespeare-in-the-Park Ticketholders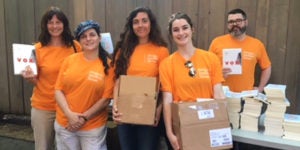 In the ongoing spirit of us giving back to our communities, Penguin Random House has been a longtime supporter of Shakespeare in the Park, one of the cornerstones of the Public Theater's mission to bring performing arts to the people of New York City.  Since 1962, over five million people have experienced more than 150 free productions of Shakespeare and other classical works and musicals.  As New Yorkers waited in line this summer for tickets to watch free performances of Twelfth Night at the Delacorte Theatre in NYC's Central Park, our Penguin Random House employee volunteers cheerfully distributed free books on three different August afternoons. Penguin Random House gift bags and Hogarth Shakespeare totes were filled with such titles as Judy Blundell's THE HIGH SEASON   (Random House), Christina Dalcher's VOX  (Berkley, distributed in advance of the book's 8/21 pub date), Shakespeare's TWELFTH NIGHT (Penguin Classics), Margaret Atwood's HAG-SEED   (Hogarth),  Edward St. Aubyn'sDUNBAR (Hogarth) and Jo Nesbø's MACBETH (Hogarth).  
Volunteers had the opportunity to talk with Shakespeare fans from all walks of life, including an educator from New Jersey who shared that she would assign an acting session from VOX for her class.  A librarian from Yonkers also shared her excitement about receiving a second copy of VOX (she had already pre- ordered one).  Another group of women announced that they would start a book club with all the books they received.
Volunteer Matt Phipps, Academic and Library Marketing Assistant, Penguin Young Readers, said, "While the perks of a morning in the park and two free tickets to see Shakespeare can't be understated, what really made this a pleasure was seeing the enthusiastic responses to the books we handed out, as well as the love and recognition of Penguin Random House as an institution."
Penguin Random House imprints continue to publish the full range of Shakespeare's plays, as well as books inspired by of The Bard's works, such as SHAKESPEARE BASICS FOR GROWN-UPS  by B. Caotes  and E. Foley (Plume), and THE GAP OF TIME   by Jeanette Winterson (Hogarth), a re-telling of Shakespeare's play The Winter's Tale  and part of the Hogarth Shakespeare series, an international Penguin Random House publishing initiative.
This summer's final Shakespeare in the Park performance is tonight, August 20.
Enjoy this photo gallery featuring Penguin Random House volunteers in action:  Laura Ackerman, Senior Manager, Production Penguin Young Readers; Nancee Adams, Copy Editor, Random House Children's Publishing; Charlotte O'Donnell, Associate Publicist, Knopf Doubleday; Matt Phipps, Academic and Library Marketing Assistant, Penguin Young Readers; Katie Freeman, Executive Publicist, Riverhead Books; Kyle Madigan, Contracts Associate; Madeline Rohlin, Manager, Production, Penguin Publishing Group; Abigail Mallick, Online Marketing Manager, Digital Operations; Katie Kuppens, Managing Editorial, Penguin Young Readers; Julie Lunde, Senior Manager Digital Marketing, Crown; Eliana Seochand, Assistant Marketing Manager, Crown; Becca Putman, Marketing Manager, Crown; and Cara Reilly, Editorial Assistant, Knopf Doubleday.
Posted: August 20, 2018