PRH Supports the All We Can Save Project, Building a Community for Women Climate Leaders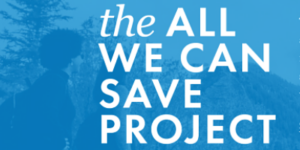 As part of our ongoing efforts to help protect the planet and its future, Penguin Random House is proud to support the All We Can Save Project , created by the editors of One World's ALL WE CAN SAVE: Truth, Courage and Solutions for the Climate Crisis, Dr. Ayana Johnson and Dr. Katharine Wilkinson. Inspired by the anthology, the new initiative will accelerate the success of the climate movement by providing support and community for women climate leaders — scientists, journalists, farmers, lawyers, teachers, activists, innovators, wonks, and designers, across generations, geographies, and race.
The All We Can Save Project will hold virtual and in-person programs; provide education and engagement; and direct financial support to cohorts of women climate leaders with the goal of championing a more representative, nuanced, and solution-oriented public conversation on the climate crisis.
"To rapidly, radically reshape society this decade — the task science has set clearly before us — status quo leadership will not suffice," said Dr. Johnson and Dr. Wilkinson. "We need an upwelling of transformational climate leadership that is more characteristically feminine and more faithfully feminist, rooted in compassion, connection, creativity, and collaboration … With more intentional community building, generous funding, and focused engagement and support for women climate leaders, we can unleash potential and accelerate the success of the climate movement."
"The climate crisis and environmental injustice is not only the most urgent issue of today, but one of the most crucial issues of our lifetime," said Nicole Counts, Senior Editor, One World. "It is imperative that we acknowledge the intersectionality of environmental injustice with racial, social, and political inequities if we are to drastically change course and save our planet. One World is beyond proud to have published this work, and we hope that the authors' project, named after the book, empowers women climate leaders in profound and impactful ways to continue to care for our planet, and its inhabitants."
Posted: October 27, 2020