PRH Supports the Black Women's Health Imperative with Donations as Penguin Classics Launches Social Media Campaign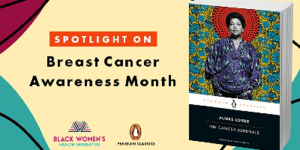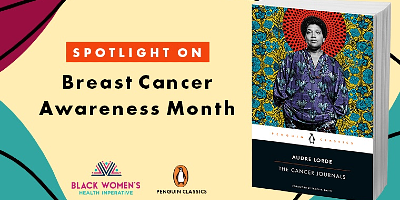 October is Breast Cancer Awareness month and Penguin Random House is helping to raise awareness around this urgent issue that affects the country and our readers. We are highlighting today's publication of Penguin Classics' new edition of Audre Lorde's THE CANCER JOURNALS and paying tribute to Lorde's legacy by connecting the impact of her work with the well-being of her community that inspired much of her writing. Four decades after this book was first published, Black women still have the highest breast cancer death rate of all racial and ethnic groups, and are 42 percent more likely to die of breast cancer than white women (Source: American Cancer Society Cancer Action Network).
Penguin Random House has partnered with Black Women's Health Imperative, an organization that's working to close this gap by supporting health and wellness initiatives for Black women. Since its inception, the organization has been at the forefront of women's health issues, through comprehensive public education initiatives that promote overall wellness of Black women.
Penguin Classics is launching an affiliated social media campaign speaking to their 500K+ followers, with the goal of shining a light on the important work of the BWHI.
Penguin Random House has pledged support to the BWHI and you can make a donation to this worthy cause here.
The idea for this partnership was inspired by the publication of Penguin Classics' new edition of THE CANCER JOURNALS, a startling, powerful account of Lorde's experience with breast cancer and mastectomy, with a foreword by US Poet Laureate Tracy K. Smith. Poetic and profoundly feminist, Lorde's testament gives visibility and strength to women with cancer to define themselves, and to transform their silence into language and action. Learn more here.
Posted: October 13, 2020