PRH to Install Water Bottle Filling Stations to Help Reduce Plastic Pollution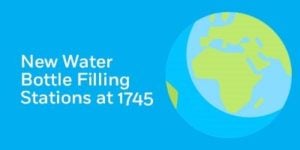 Help Penguin Random House reduce plastic pollution and protect our oceans by using our new water refilling stations.
We are happy to announce that Water Bottle Filling Stations will be installed on our floors at 1745 Broadway. Responding to frequent requests from many of you at both our uptown and downtown NYC locations, and in support of our sustainability efforts, our company has acquired FW-PRO Kitchen Counter Water Purifiers. In addition to saving money, you can now also help reduce and eliminate plastic pollution as part of your daily routine.
The water purifiers serve hot, cold, and room temperature filtered water. The machine has a built-in 2 stage dual 1 micron Carbon Block/Anti-scale filter system with a bacteria inhibitor that blocks 99.9% of e.coli and reduces chlorine, lead, and insecticides. In other words, the filter removes most common contaminants found in city tap water. It also eliminates bad tastes and odor, and produces crystal clear and tasty water.
Want to do more to protect the environment and help prevent plastic pollution? Our Corporate Communications team has researched the organizations below if you'd like to donate and get involved.
The Ocean Conservancy: This organization educates and empowers people to take action on behalf of the ocean. Their mission is to make ocean issues accessible and engaging, bringing science, political action and communications together to condition the social climate for change and protect the ocean for future generations. To donate directly to the Ocean Conservancy click here.
The Ocean's Voice: The Ocean's Voice provides a platform for a consortium of educators who will present information on world ocean issues to the general public. In addition, The Ocean's Voice campaigns for clean oceans by advocating for conservation through education, music, and art. To donate directly to The Ocean's Voice click here.
Plastic Oceans Foundation: The mission of the Plastic Oceans Foundation is to inform on the topic of plastic pollution, inspire people to care about the issue, and incite action on real solutions that shift the global reliance on plastics. To donate directly to Plastic Oceans Foundation click here.
Plastic Ocean Project Inc.: The Plastic Ocean Project Inc. aims to educate through field research, implement progressive outreach initiatives, and incubate solutions to address the global plastic pollution problem. They strive to work with, and for, the next generation to create a more sustainable future. To donate directly to the Plastic Oceans Project Inc. click here.
Sea of Change Foundation: The Sea of Change Foundation funds marine conservation, education and research initiatives that directly impact the world's oceans. Working closely with the scuba diving community, their mission is to create positive change for the oceans. To donate directly to Sea of Change Foundation click here.
World Wildlife Fund: The WWF calls for urgent action from individuals, businesses, and governments to help fight back against plastic pollution. WWF's unique way of working combines global reach with a foundation in science, involves action at every level from local to global, and ensures the delivery of innovative solutions that meet the needs of both people and nature. To donate directly to the WWF please click here.
Penguin Random House has been collaborating with WWF on other environmental topics, including the reduction of carbon emissions.
Posted: November 14, 2018