PRH to Publish "THE 1619 PROJECT: A New Origin Story" and "BORN ON THE WATER" in November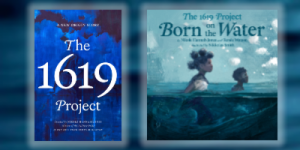 Penguin Random House is thrilled to announce November 16, 2021 as the publication date for THE 1619 PROJECT: A New Origin Story, created by Nikole Hannah-Jones and The New York Times Magazine, and The 1619 Project's BORN ON THE WATER by Nikole Hannah-Jones and Renée Watson, illustrated by Nikkolas Smith.
One World will publish THE 1619 PROJECT: A New Origin Story, a bold expansion of The New York Times Magazine's The 1619 Project, an award-winning reframing of U.S. history that placed slavery and resistance — and their legacy —at the center of the national narrative. On the same day, Kokila will publish BORN ON THE WATER, a picture book from The 1619 Project chronicling the rich history of the enslaved African people who built America in a story that begins when a Black girl gets a class assignment that makes her ashamed that she doesn't know what native country her people come from. Both books will be published in hardcover and digital formats by Random House and Kokila, respectively, and audiobooks will be simultaneously released by Penguin Random House Audio.
The 1619 Project, which was launched in August 2019, has been one of the most consequential media events of this era. It has been read by millions, studied in classrooms all across the country, and invoked by politicians on both sides of the aisle. Its central argument, that so many aspects of contemporary American life have their roots in the system of slavery out of which the country grew, has sparked intense debate in the two years since it was published.
Now, One World is proud to present THE 1619 PROJECT: A New Origin Story, a book that dramatically builds on the vision of the original magazine project with major expansions of the original essays, seven new essays by historians, and dozens of new poems and pieces of fiction. The book includes a significant elaboration of the project's Pulitzer Prize-winning lead essay by Nikole Hannah-Jones and a new introduction that together offer a stirring rebuttal to critics. Hannah-Jones has also written a third essay that makes the case for reparative solutions to the legacy of injustice the project documents.
Edited by Hannah-Jones, along with New York Times Magazine editor-in-chief Jake Silverstein, features editor Ilena Silverman, and New York Times executive producer Caitlin Roper, the book offers work from some of the country's most outstanding journalists, thinkers, historians and scholars, including: Michelle Alexander, Leslie Alexander, Carol Anderson, Jamelle Bouie, Anthea Butler, Matthew Desmond, Martha Jones, Ibram Kendi, Kevin Kruse, Trymaine Lee, Tiya Miles, Wesley Morris, Khalil Gibran Muhammad, Dorothy Roberts, Jeneen Interlandi, Bryan Stevenson, and Linda Villarosa.
Woven throughout the book are works of fiction and poetry that bring to life four hundred years of history with imaginative writing by Joshua Bennett, Reginald Dwayne Betts, Rita Dove, Camille Dungy, Cornelius Eady, Eve L. Ewing, Nikky Finney, Vievee Francis, Yaa Gyasi, Forrest Hamer, Terrance Hayes, Honorée Fanonne Jeffers, Barry Jenkins, Tyehimba Jess, Robert Jones, Jr., A. Van Jordan, Yusef Komunyakaa, Kiese Laymon, Jasmine Mans, Terry McMillan, Lynn Nottage, ZZ Packer, Gregory Pardlo, Darryl Pinckney, Claudia Rankine, Jason Reynolds, Evie Shockley, Tim Siebles, Clint Smith, Danez Smith, Patricia Smith, Tracy K. Smith, Nafissa Thompson-Spires, Natasha Trethewey, Jesmyn Ward and Sonia Sanchez.
The book also includes archival portrait photography of Black Americans paired with each essay, curated by Kimberly Annece Henderson.
Together, the 18 essays in the book and the 36 creative works come together to show how the inheritance of 1619 reaches into nearly every part of contemporary American society, from politics, music, diet, traffic, and citizenship, to capitalism, religion and our very democracy. This legacy can be seen in the way we tell stories, the way we teach our children, even the way we remember.
"We could have found no better home for The 1619 Project book than with the brilliant Chris Jackson and his One World imprint," said Hannah-Jones. "When we published The 1619 Project in 2019, none of us could have imagined all that it would become. The historic events that have since taken place in our country have only affirmed the thesis of, and necessity for, a project that grapples with how slavery, oppression and the struggle for Black liberation created the country we live in today. This book, with its expanded and new essays, will illuminate in surprising ways the indelible impact that this nation's original sin continues to have on all of us in the belief that it is only by honestly confronting our past that we can build a country that lives up to its most majestic ideals."
"We are thrilled to be partnering with Nikole Hannah-Jones and The New York Times Magazine on this project," said Chris Jackson, One World's publisher. "The 1619 Project book extends and refines the original magazine's persuasive case that our country was set into motion and is still defined by the twin births of that historic year: a historically brutal regime of race-based slavery and the glorious freedom struggle it necessitated. This book introduces readers to a story of the United States, outside of mythology and illusion, that is at once terrifying, inspiring, and useful: it gives readers a new and illuminating path back to our past, but also shows us paths forward, to a country finally shed of its historic burden."
In BORN ON THE WATER, a young student receives a family tree assignment in school, but she can only trace back three generations. Grandma gathers the whole family, and the student learns that 400 years ago, in 1619, their ancestors were stolen and brought to America by white slave traders. But before that, they had a home, a land, a language. She learns how the people said to be born on the water survived. With powerful verse and striking illustrations by Nikkolas Smith, BORN ON THE WATER provides a pathway for readers of all ages to reflect on the origins of American identity by centering the brutalities of slavery and the contributions of Black Americans.
"I do not know how to adequately express the honor and joy I feel to have co-written a children's book with the illustrious Renée Watson that presents a new origin story for the millions of Black American children who, like myself, believed slavery erased our connection to our motherland and that we had no flag or land to claim," Hannah-Jones said. "This book, with exquisite illustrations by Nikkolas Smith, does not seek to hide the pain and cruelty of slavery, but also affirms that Black culture predates our enslavement, that the Black American experience is also embodied by love and resistance, and that an inhumane system could never strip the humanity of a people. It is a story of affirmation for every Black child, and a story of America that will speak to every child no matter their race."
Namrata Tripathi, VP and Publisher of Kokila, said, "Picture books serve as our introduction to storytelling, and so it feels especially right that The 1619 Project, which examines the beginning of the American story, be shared in this form. The poetry and care with which Nikole Hannah-Jones, Renée Watson, and Nikkolas Smith approach Born on the Water make it both a gift for young readers (and the grown-ups in their lives) and a powerful tool for them to reimagine their place in the United States. This book is an invitation for young people to know and tell their stories, and we are so proud to be publishing it."
Posted: April 13, 2021