PRH Volunteers Share Our Books with Shakespeare in the Park Fans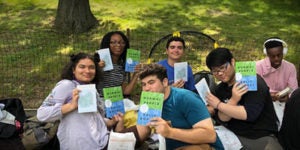 In the ongoing spirit of giving back to our communities, Penguin Random House has been a longtime supporter of Shakespeare in the Park, one of the cornerstones of the Public Theater's mission to bring performing arts to the people of New York City. Since 1962, over five million have experienced more than 150 free productions of Shakespeare and other classical works and musicals.
As New Yorkers waited in line for tickets to last Thursday's Much Ado About Nothing performance at the Delacorte Theater in NYC's Central Park, Penguin Random House employee volunteers cheerfully distributed free books as part of our first book drop of the season. Penguin Random House gift bags were filled with the Hogarth title NORMAL PEOPLE by Sally Rooney and the Penguin Classics edition of Shakespeare's MUCH ADO ABOUT NOTHING.
Meet the Penguin Random House book drop volunteers: Marybel Angulo, Erin Byrne, Emma Brewer, Yahaira Lawrence, Cara Reilly, Madeline Rohlin, and Veronica Valerio.
Posted: June 12, 2019