PRH & We Need Diverse Books Announce the Winners of the 2022 Black Creatives Fund Revisions Workshop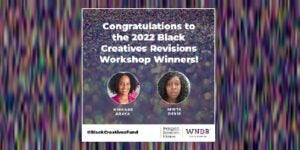 We Need Diverse Books (WNDB) and Penguin Random House are excited to announce the two winners of the second annual cycle of the Revisions Workshop, who will each receive grants of $2,000. The Revisions Workshop is an initiative within WNDB's Black Creatives Fund (BCF) underwritten by Penguin Random House, which launched in early 2021 to support Black fiction writers.
Since its inception, the BCF has strived to celebrate the accomplishments of its alumnx, from signing with literary agents to landing book deals to gaining admission into MFA programs. Penguin Random House was the inaugural sponsor of the fund in the 2021 calendar year and sponsored the program again in 2022.
A committee of PRH editors selected the two winners, which include:
Kibkabe Araya, BEFORE EVERYTHING GOES UP IN FLAMES, Middle Grade and Young Adult Category
Mirta Desir, SAVING JUDE, Adult Category
Both winners' manuscripts will be considered for publication at Penguin Random House. The committee of editors included:
Adult:  Khari Dawkins, Kate Dresser, Deanne Katz, Caitlin McKenna and Carolyn Williams
Middle Grade/Young Adult:  Kelly Delaney, Casey McIntyre, Kimberly Meilun, Simone Roberts Payne, Matt Phipps, Ruta Rimas and Elizabeth Stranahan
A huge thank you to all of you for volunteering your time to provide these writers with such thoughtful feedback!
The Revisions Workshop was established to provide manuscript development and programming for twelve Black writers who have completed a draft of a middle grade, young adult, or adult novel. Over a six-month period, participants received training from a faculty of esteemed Black authors, along with the opportunity to build a writing community, connect with publishing professionals, and receive feedback on their works in progress. The workshop was developed and overseen by Breanna J. McDaniel, the Program Manager of the Black Creatives Fund.
Kibkabe Araya's young adult manuscript, BEFORE EVERYTHING GOES UP IN FLAMES, was reviewed by Kimberly Meilun, Assistant Editor at Portfolio. "Such a very well-done book! Such great, fully realized characters! ," said Meilun.
Mirta Desir's adult manuscript, SAVING JUDE was reviewed by Carolyn Williams, Editor, Doubleday. "This is a promising page-turner," said Williams.
WNDB and PRH will continue Black Creative Fund programming in 2023. While the Revisions Workshop will be on hiatus this year, the BCF Mentorship program will open to applications later this spring to picture book, middle grade, and young adult writers. WNDB will pair eight Black writers with published authors, who will provide support and feedback over the course of five months. Throughout 2023, WNDB will also host virtual marketing workshops for traditionally published Black authors who are seeking guidance and ideas on how to promote their work to new audiences. Interested applicants may follow WNDB's social media or subscribe to their newsletter for updates.
Posted: February 24, 2023