Pride Month Author Interview: Robert Jones, Jr.
PRH's LGBTQ+ Network is excited to continue their author interview series featuring LGBTQ+ authors from across PRH imprints. One of today's featured authors is Robert Jones, Jr.
Robert Jones, Jr., is the author of The New York Times bestselling novel, The Prophets, which won the 2022 Edmund White Award for Debut Fiction, was a finalist for the 2021 National Book Award for Fiction, and was named one of the best books of 2021 by Time, Entertainment Weekly, USA Today, The Boston Globe, and The Washington Post, among others. His writings have been featured in The New York Times, Essence, and The Paris Review, as well as in the critically acclaimed anthologies Four Hundred Souls and The 1619 Project.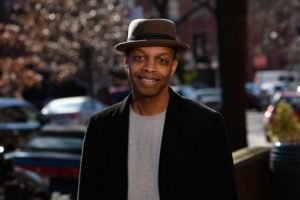 The Prophets follows the love story of two Black queer men. It also touches upon how certain religious beliefs have been weaponized to manipulate enslaved people. As we've collectively witnessed the rise of the religious right, we've also seen the silencing of queer narratives. How has the reception of your novel been within this context?
When I first dreamed up this novel, I was under the impression that it would receive a ton of animus. Because the book is centering Black queer love, not just in the United States during Antebellum slavery, but also in pre-colonial African times, it's critiquing a particular brand of Christianity. It also doesn't give readers a white savior. So, I thought, there goes most of the population right there. No one is going to want to read this book. But what I discovered, is that there is an audience for this book. It's been Black people who are at the intersection of Blackness and queerness, not just in the United States, but across the world. That's been the most rewarding aspect of having this book published. I recently discovered that it's a challenged book, a banned book. I feel like I won an award because that is the best possible thing this country could have said to me about The Prophets. I know that banned books are books that challenge the status quo, challenge the patriarchy, white supremacy, and capitalism. To me, it's a badge of honor.
It's very powerful, thinking about high school kids having this story in their hands. And it's frightening that stories like yours are being banned. Queer people, and in particular Black queer people, have always existed, but their stories haven't always been told. The Prophets taps into the Black queer imagination, but it also brings in nuanced historical references. What was the research process like to bring all these elements to life?
Exhaustive. When I started writing The Prophets in 2006, there wasn't a lot of information available about Black queer people existing prior to the Harlem Renaissance. I had searched everywhere. I clung to the small things I was able to find. The best information I received were the oral histories of continental Africans, because on the continent, a large segment of the population relays their history through oral traditions. I found the work of Esther Armah, a wonderful Ghanaian scholar, activist and artist. She talks about how her people, the Ga people, had no word for queerness because it was considered a natural part of the human experience. Her insight opened up an entire world for me to discover how many different societies on the African continent had the mentality that queerness was nothing exceptional. It was just regular human behavior. That was the key to unlock the door to the way in which I was able to have some authority in how I articulated this story.
How did the story evolve as you wrote it? Did any global events affect your writing process in any way?
Initially, the story was going to be told from the point of the one of the main characters, Isaiah. It was going to be Isaiah, relaying his life story to a historian, like a fictionalized slave narrative in a sense. I quickly realized that Isaiah's point of view was too limited to cover all that I wanted to express in this work. I needed to take more of an ensemble approach, a kind of polyphonic narrative. I allowed different people, including the ancestors, to have a voice in this narrative. That transition didn't come until around 2014/2015. That was when the book really started to pick up and I was able to finish a complete draft.
In terms of world events, nothing directly affected how I was writing The Prophets, but what struck me was how the topics I was talking about were still relevant to our time. It was shocking to me that not much had changed. We don't have plantations anymore, now we have the Prison-Industrial Complex. We don't have overseers anymore, now we have officers. It became clear to me that underlying institutional bigotry and hatred remained. It was just the names that had changed.
Recently you published your last post as the Son of Baldwin, a social-justice social media community you created that gained 300,000 followers from its inception. You wrote about leaving social media behind in order to prioritize your health and well-being. Do you think social media can still be used as a force of good or to disseminate truth in any way?
That would depend on whose hands it rests in. Part of the reason why I'm leaving social media behind is because the billionaires are in control of these platforms and their algorithms are set so that alliances are difficult. I'm not sure if social media will be where the revolution happens. In the beginning, I had hope. But now what I'm seeing, at least in my circle of the internet, is profound divisiveness between people who should ordinarily be allied. I'm trying to find a different place to do that sort of building and that seems to be in my real life. I'm not sure about what social media can offer now. I'm afraid because of people like Mark Zuckerberg and others who are controlling the platforms and using them strictly to enrich themselves.
What's your advice for young Black queer people navigating this new reality? Where do you think we should go to get the truth?
We have to go back to the ancestral circles. Where I find the most enrichment in terms of knowledge and wisdom is reading. Whether it be Toni Morrison or James Baldwin or Wallace Thurman or Zora Neale Hurston, I can only trust that space. There is something about books. Maybe that's why people ban them, because they know they have such a revolutionary power. Books are where I find the most progressive thought, the most profound wisdom, the most pertinent encouragement to be the best person I can be, so that I can be a voice in this world that is trying to make it better and not worse. I've returned to the greats. I've returned to the literary realm. That's where I find true knowledge.
What do you hope for the future of the Son of Baldwin community? You've created such a robust network. Is there anything still there for the folks who have followed you?
I'm going to archive all those years of posts and discussions and put it on a site where people can access it like a text. I hope it lives on as a text that people can refer to and learn from. I hope that over the last fourteen years of having done this work with Son of Baldwin, that I've touched enough people such that somebody can start their own Son of Baldwin or Daughter of Morrison or Child of whomever, so that these conversations can continue and spiral outward until we can attain some level of humanity and return to compassion and kindness. Those are really the only two things that can save us at this point.
What does pride mean to you?
Pride to me is Marsha P Johnson throwing a brick through the window at Stonewall and setting it off. She, to me, is the reason why I have any benefits I have now as a Black queer person. She reminds me that fighting for your rights, and asserting your right to be, isn't always going to be pretty. Sometimes you're going to have to punch your oppressor directly in the face. Sometimes they can't see your humanity and you're left with no choice but to fight for it.
What is your essential Pride reading list that you'd recommend to PRH employees?
Belly of the Beast (The Politics of Anti-Fatness as Anti-Blackness) by Da'Shaun L. Harrison. Anything by Marlon James. And Baldwin, of course. I would not be the person I am today if not for James Baldwin.
If you are interested in becoming a member of the LGBTQ+ Network and would like to receive details about future events, sign up for the Network newsletter at http://eepurl.com/gF27KH. For all other inquiries, email the Network at lgbtqnetwork@penguinrandomhouse.com. Follow us on Instagram @PRHLGBTQ!
Posted: June 30, 2022